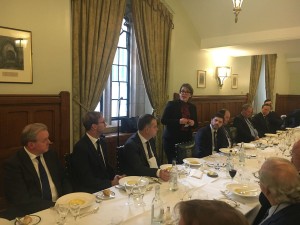 Over 40 Conservative MPs and Lords attended CFI's welcome lunch for the new Deputy Ambassador of Israel, Sharon Bar-Li, in Parliament on Tuesday.
At the lunch, chaired by CFI Parliamentary Chairman Rt. Hon. Stephen Crabb MP, parliamentarians were addressed by the Deputy Ambassador, who gave a tour of the key issues facing Israel currently and took questions on a wide range of subjects, from UK-Israel trade to recent events concerning Saudi Arabia and Lebanon.
Among parliamentarians in attendance were Defence Minister Rt. Hon. Tobias Ellwood MP, Wales Minister Guto Bebb MP, Government Whips Nigel Adams MP and Mike Freer MP, Chair of the Foreign Affairs Select Committee, Tom Tugendhat MP, CFI Vice-Chairmen John Howell OBE MP and Andrew Percy MP, and Rt. Hon. Mark Harper MP.
Deputy Ambassador Bar-Li welcomed the strong trade partnership between the UK and Israel, and highlighted that cooperation was taking place between the two countries at all levels.
In response to a question on Israel's policy on settlement construction, Ms Bar-Li emphasised that Israel had previously given up land for peace in the Sinai Peninsula and in the Gaza Strip, destroying all of the settlements there and evacuating the Jewish population. She expressed that the question of settlements was important, but one of several issues.
On the prospect of peace, the Deputy Ambassador recalled Israel's historic peace deals with Egypt and Jordan, underlining that it was also achievable with the Palestinians.