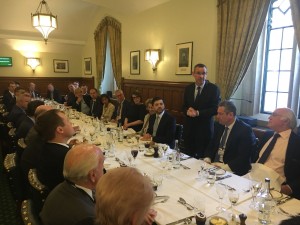 Yesterday in Parliament, 50 Conservative MPs and Lords attended a lunch hosted by CFI with the Ambassador of Israel, H.E. Mark Regev, in celebration of Israel's Independence Day and 70th birthday.
The event was chaired by CFI's Parliamentary Chairman in the House of Commons, Rt. Hon. Stephen Crabb MP, and parliamentarians in attendance included Defence Minister Guto Bebb MP, Treasury Minister Robert Jenrick MP, Foreign Affairs Select Committee Chairman Tom Tugendhat MBE MP and Rt. Hon. Lord Howard of Lympne. Deputy Ambassador Sharon Bar-li was also present at the lunch.
A broad range of subjects were discussed at the celebratory lunch, with Ambassador Regev addressing attendees before receiving questions.
Ambassador Regev said that in Israel's 70 years, it "has not only survived, it has flourished", and said he is sure "the next 70 years will be better than the first".
Ambassador Regev underlined the strength of the UK-Israel partnership, stating that "British and Israeli excellence is creating jobs and prosperity in both countries". He said that particularly in the fields of security and intelligence, the UK and Israel are "very close partners".
The Ambassador referred to the UK's recent military action in Syria, informing attendees that Israeli Prime Minister Benjamin Netanyahu and Prime Minister Theresa May had spoken on the phone following the air strike, with Prime Minister Netanyahu welcoming the UK's actions.
Conservative MPs and Lords posed questions about Iran's presence in Syria among other issues, with Robert Jenrick MP expressing his concerns over Iran's "malign influence" in the region.
CFI Chairman Andrew Heller gave the vote of thanks, thanking both the Ambassador and Rt. Hon. Stephen Crabb MP for their work in strengthening the UK-Israel friendship, as well as the CFI team.