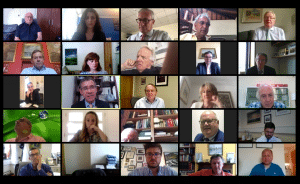 As Mark Regev ended his four years and three months as Israel's Ambassador to the United Kingdom last week, Conservative parliamentarians thanked and paid tribute to Mr Regev for his work in strengthening and deepening the UK-Israel friendship during his tenure.
CFI celebrated Mr Regev's time as Ambassador yesterday with a webinar that was joined by over 50 Conservative parliamentarians, including Minister for Security James Brokenshire, Conservative Candidate for London Mayor Shaun Bailey, Leader of the Scottish Conservatives Jackson Carlaw, and CFI Parliamentary Chairmen Rt. Hon. Stephen Crabb MP and Rt. Hon. The Lord Pickles.
The webinar was chaired by CFI Honorary President Lord Polak CBE, who said: "The number of MPs, Ministers, and peers who are joining us today is a fitting tribute to you on the terrific contribution that you've made to the UK-Israel relationship over the last four years and three months, and the esteem in which you are held".
Mr Regev said that his time as Ambassador was marked by very important historical events: marking 100 years of the Balfour Declaration in 2017; the first official Royal visit to Israel by HRH Prince William, The Duke of Cambridge in 2018; and in 2019, the first ever joint exercise (Cobra Warrior) over British skies between the Israeli Air Force and the RAF. Later on in the webinar Mr Regev recounted that his father's family were saved by the RAF during WW2.
Mr Regev underlined that the growing defence partnership has made "citizens of both of our countries safer and better protected". He emphasised that the cyber cooperation, intelligence cooperation, and counterterrorism was also flourishing.
It is in the area of trade however that the most pronounced momentum is taking place, Mr Regev emphasised: "Until this year, every year I saw trade between the UK and Israel increase… I expect once Covid-19 is behind us, I think we will continue to see the UK-Israel trade relationship go from strength to strength".
Watch the webinar here:

Here are some highlights from Ambassador Regev's time as Ambassador…
May 2016: Over 50 Conservative MPs attended CFI's welcome lunch for Ambassador Regev, where parliamentarians discussed ways to deepen the UK-Israel friendship.
December 2016: Ambassador Regev makes first speech at CFI's Annual Business Lunch, where then-Prime Minister Theresa May announced that the UK was adopting the broad definition of antisemitism drawn up by the International Holocaust Remembrance Alliance (IHRA) – the first country in the world to do so.
August 2017: Ambassador Regev addressed 10,000 Hindus at Wembley Arena for the festival Ram Katha London, where he emphasised the bond between Hindus, Jews, Israel and India.
April 2017: Ambassador Regev, hosted a discussion on the Middle East at the School of Oriental and African Studies (SOAS), marking the first visit of an Israeli diplomat to the university in 12 years. Throughout his tenure, Mr Regev took part in many discussions with students at universities across the UK, as well as making numerous media appearances.
July 2017: The UK Government announced an unprecedented £3 million in funding towards peaceful coexistence projects for Israelis and Palestinians.
November 2017: Theresa May invited Israel's Prime Minister Benjamin Netanyahu to London, where the UK and Israel celebrated the centenary of the Balfour Declaration "with pride". 100 Conservative parliamentarians co-signed a CFI-coordinated letter celebrating the Balfour Declaration, published in The Telegraph.
February 2018: The UK and Israel's Science Ministers sign joint declaration to increase cooperation, building on the research and innovation strengths of both nations.
March 2018: Mark Regev celebrated St David's Day in Wales, where he met Welsh Conservative Assembly Members and attended a festive reception. He met then-leader of the Welsh Conservatives Andrew RT Davies AM and Conservative AMs, to hear about CFI's delegation of Welsh Conservatives to Israel in September 2017.
April 2018: Over 50 Conservative parliamentarians celebrated Israel's 70th birthday, at a lunch hosted by CFI with Ambassador Regev. Ambassador Regev said that in Israel's 70 years, it "has not only survived, it has flourished", and said he is sure "the next 70 years will be better than the first".
June 2018: HRH The Duke of Cambridge, Prince William, travelled to Israel for the first official Royal visit in the Jewish State's 70-year history. HRH reflected on the country's "essential vibrancy" and that: "the ties between our two countries have never been stronger".
January 2019: The UK agrees one of the first post-Brexit free trade deals in principle with Israel.
January 2019: Ambassador Regev addresses CFI's Parliamentary Reception, where Jeremy Hunt became the first Foreign Secretary to recognise that Britain's 1939 White Paper capping immigration to Palestine was a "black moment" in history.
July 2019: Then-Home Secretary Sajid Javid made a historic visit to Jerusalem's Western Wall while Home Secretary, the first by a British Minister in 20 years. At CFI's Conservative Party Conference reception in October 2019, Mr Javid reflected on his visit, stating: "It shouldn't have taken two decades, but I know that many more Conservative Cabinet Ministers will follow on from that".
September 2019: The Royal Air Force (RAF) and Israel's Air Force (IAF) conducted their first ever joint exercise, Cobra Warrior.
December 2019: Israeli exports to the UK grew by 286% in the past decade, figures from Israel's Foreign Trade Administration reveal. Bilateral trade between the countries exceeds a record $10 billion.
December 2019: Prime Minister Johnson underlined in the Queen's Speech debate that the Government will stop public bodies from developing their "own pseudo foreign policy against countries" and stop them from boycotting Israeli goods.
January 2020: HRH The Prince of Wales, Prince Charles visited Israel to mark the 75th anniversary of the liberation of Auschwitz-Birkenau. Before delivering his speech, he met with Israel's President Reuven Rivlin and Chief Rabbi Ephraim Mirvis, where they planted an English OakDeciduous tree in the President's residence.
February 2020: Ambassador Regev welcomed 40 newly elected Conservative MPs at lunch in Parliament hosted by CFI. MPs asked Ambassador Regev a range of questions, including on Israeli tech, security threats, regional peace, and how they can deepen the UK-Israel partnership.
April 2020: The UK and Israel celebrated 70 years of diplomatic ties. Ambassador Regev said: "For 70 years, the Israel-UK partnership has brought tangible benefits to both our democracies. We can be confident it will continue to do so in the seven decades to come".
Last week, CFI's Honorary President Lord Polak CBE and Parliamentary Chairmen Rt. Hon. Stephen Crabb MP and Rt. Hon. The Lord Pickles thanked Ambassador Regev for deepening the Israel-UK friendship. In a statement, they said: "Mark has deepened and widened the friendship between Israel and the UK during his time as Ambassador. From record trade and landmark Royal visits to Israel through to the Balfour centenary celebrations, Mark has worked tirelessly to secure a stronger and healthier bond between our two countries. In addressing hundreds of Conservative parliamentarians and activists at CFI events, Mark has made a lasting connection with so many. CFI would like to thank Mark for his commitment and service, and wish him well in his future endeavours".
Deputy Ambassador Sharon Bar-li is to fill in as Chargee d'Affaires, and we look forward to working with her in the coming months.