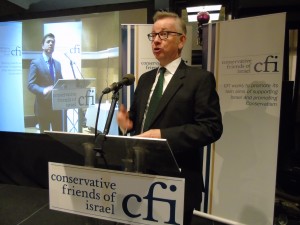 More than 500 Conservative delegates packed into CFI's Conservative Party Conference Reception on Monday 2nd October to hear a keynote address from Environment Secretary Michael Gove.
A series of Secretaries of State and Government Ministers, as well as 50 MPs attended the event, which has cemented its place as one of the main events on the Conference calendar. Attendees included, Secretary of State for Communities and Local Government Sajid Javid, Defence Minister Tobias Ellwood, and Foreign Office/International Development Minister Rory Stewart, and Cyprus High Commissioner H.E. Euripides Evriviades. CFI's new Parliamentary Chairman in the House of Commons made his first speech in his new role, and other speakers to address the full room included, Rt. Hon. Sir Eric Pickles, Ambassador of Israel H.E. Mark Regev, and CFI Chairman Andrew Heller.
Many of CFI's new Parliamentary Group were in attendance, including Vice-Chairmen Rt. Hon. Theresa Villiers MP and John Howell OBE MP, and Officers Bob Blackman MP, Oliver Dowden CBE MP, Paul Masterton MP and Mary Robinson MP.
The event came in the middle of another successful Conservative Party Conference for CFI, as we signed up over 100 new members at our exhibition stand. The CFI exhibition stand has been a hive of activity with many MPs and hundreds of Conservative delegates from across the Party visiting to sample Israeli wine, and read CFI literature – including the newly redesigned edition of Informed Magazine, which features a letter from Prime Minister Theresa May. We would like to thank all who attended our reception and signed up to become CFI members – we look forward to seeing you at a CFI event soon!
The Environment Secretary, Rt. Hon. Michael Gove MP, praised Israel for its "amazing" achievements since the Balfour Declaration 100 years ago: "The desert has bloomed. Israel has become an economic and a technological powerhouse. It has also been one of our principle allies and a stalwart friend in the fight against extremism".
To loud applause, he added: "All of us who believe that the human spirit given a chance to grow can achieve amazing things can look at Israel and see that it is truly a miraculous nation and a light unto the world".
Highlighting concerns over the "depressing scenes" of anti-Semitism at Labour Party Conference, Mr Gove asserted that there has "never been a moment in the nation's history where the Conservative Friends of Israel has been a more important organisation".
He questioned: "Why is it that on every occasion when Jeremy Corbyn has had the chance to choose between the death-squad and the democrats, that he has declined to stand with the democrat? Why is it that he calls Hamas and Hezbollah his friends?"
CFI's new Parliamentary Chairman in the House of Commons, Rt. Hon. Stephen Crabb MP, started by praising his predecessor Rt. Hon. Sir Eric Pickles. He said: "What Eric has done not just for CFI, but for the cause of fighting anti-Semitism and promoting Holocaust education over many years in Parliament is a massive credit to him. He's done a fantastic job. Eric, it is a huge privilege and honour to fill your large shoes in this new role".
The former Secretary of State paid tribute to CFI's new Parliamentary Group: "Together as a team standing up for Israel and CFI in the House of Commons we are going to be doing it with smiles on our faces and proudly as supporters and friends of Israel".
Identifying the Balfour Centenary "celebration" as a "really key moment for us", Mr Crabb pledged: "The commitment that we make is that we will be standing up and defending Israel and standing up against the intolerance and bigotry of the boycott movement. We will be standing up for Israel's right to defend itself, and we will be calling out the Labour Party on any act of anti-Semitism".
Talking of his "love" of visiting Israel with CFI, the MP for Preseli Pembrokeshire reflected on a visit to Sderot and seeing the communities where "missiles come raining over". He noted: "It doesn't fail to impress on you the importance of defending Israel's security interests. And CFI does an important job of getting MPs and candidates out to Israel to understand these issues at a much deeper level".
Opening the evening, CFI's former Parliamentary Chairman Rt. Hon. Sir Eric Pickles celebrated the UK-Israel relationship for being stronger than ever and emphasised that the UK "recognises the importance that Israel has as a strategic partner, and as a friend".
The UK Envoy for Post-Holocaust Issues talked about his "genuine sadness at the rise in anti-Semitism" in the Labour Party and echoed Michael Gove's call to work with MPs across the aisle to "stamp it out".
Israel's Ambassador to the UK, H.E. Mark Regev, started by thanking the packed room for showing it's support to Israel. The Ambassador said: "It is a pleasure to be back at Conservative Party Conference in the company of so many Conservative Friends of Israel… Friends, seeing you all here tonight gives me confidence that the Israel-UK partnership will continue to grow because I see you all here committed to the friendship between our two democracies".
Looking ahead to Prime Minister Benjamin Netanyahu's upcoming visit to London to mark the "truly historic Balfour anniversary", the Ambassador said: "I speak for all of you I'm sure for thanking Prime Minister May for her friendship. I thank her for her commitment to the partnership between out two democracies and I thank her for her decision to mark with 'pride' this important centenary. It is something I believe all Conservative Friends of Israel can be truly proud, just as you can be proud of the good work that CFI does all through the year".
Thanking Sir Eric for "37 years of friendship", the Ambassador said: "I am grateful, my country is grateful, my people are grateful. Thank you, Sir Eric". He also welcomed the appointment of Rt. Hon. Stephen Crabb MP as CFI's new Parliamentary Chairman in the House of Commons.
Closing the event, CFI Chairman Andrew Heller, also welcomed Mr Crabb: "Stephen, you are a fantastic addition to the team and we are all very much looking forward to working with you. Everyone at CFI wanted to get you much more closely involved and we're really glad we got our wish".
CFI's Conference Reception received press coverage from the Jewish News and Jewish Chronicle.