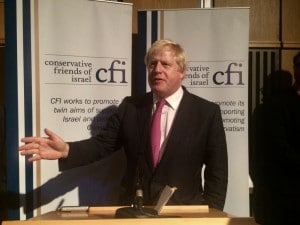 CFI has congratulated Boris Johnson following his success in the Conservative Party Leadership Election to become the UK's next Prime Minister.
CFI's Parliamentary Chairmen Rt. Hon. Stephen Crabb MP (Commons) and Rt. Hon. The Lord Pickles (Lords), and CFI's Honorary President, Lord Stuart Polak CBE said:
"CFI would like to warmly congratulate Boris Johnson on becoming the UK's next Prime Minister.
"From his refusal to boycott Israeli goods in his time as Mayor of London, through to his instrumental role as Foreign Secretary in both the landmark Balfour Declaration celebrations and the first-ever official Royal visit to Israel, Boris has a long history of standing shoulder to shoulder with Israel and the Jewish community.
"Mr Johnson continued to display his resolute support throughout the Leadership Contest, with a memorable hustings event with CFI and an excellent letter penned to CFI's supporters reiterating his deep support for Israel and pledging to be a 'champion for Jews in Britain and around the world'.
"CFI looks forward to working with Prime Minister Boris Johnson and his new Government to take the deep UK-Israel relationship from strength to strength".