This week, C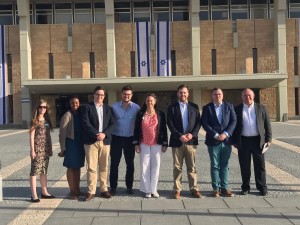 FI is coordinating a delegation to Israel and the West Bank with the Conservative Christian Fellowship (CCF), in the first visit of its kind.
Delegates include former Prospective Parliamentary Candidates (PPCs), as well as CCF trustees and graduates of CCF's IMPACT course, most of whom are visiting Israel for the first time.
The itinerary includes a series of high-level strategic briefings as well as visits to numerous Christian sites, with a tour of the Church of the Nativity in Bethlehem and meetings with Israeli and Palestinian politicians.
Delegates have met with British Ambassador H.E. David Quarrey at his residence in Tel Aviv, and have visited Israel's northern borders with Syria and Lebanon.
The group have also visited Magen David Adom's (national ambulance service) dispatch centre in Tel Aviv, where delegates learned about Israel's highly advanced emergency response protocols.
CFI Executive Director James Gurd said: "The first CFI-CCF visit to Israel has been both memorable and uplifting. The growth and success of Israel's Christian community stands in stark contrast to the rest of the Middle East. We are proud of the Conservative Party's long-standing support for Israel, and will continue to take Conservatives from all levels of the Party to Israel, ensuring that Israel's case is fairly represented".
CCF Executive Director Gareth Wallace said: "It has been a real privilege for the CCF to visit the Holy Land in coordination with CFI. Israel has played a unique role in the history of the Christian faith, and we pray for the peace and prosperity of all its people and the wider region".