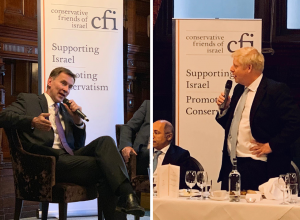 Over the last fortnight, CFI has hosted hustings with leadership candidates Rt Hon Boris Johnson MP and Rt Hon Jeremy Hunt MP as they compete to replace Theresa May as Prime Minister and Leader of the Conservative Party.
The two candidates addressed CFI supporters at two separate events, affirming their support for Israel and the Jewish community and answering questions on a wide range of issues.
During their respective terms as Foreign Secretary, both candidates have acted in Israel's interest and maintained support for the Jewish State. In February, the UK Government proscribed the Hezbollah terror group in full with Jeremy Hunt as Foreign Secretary, and during his term as Foreign Secretary Boris Johnson oversaw the first official Royal visit to Israel.
Addressing CFI's Parliamentary Reception in January this year, Mr Hunt celebrated the "great friendship" between the UK and Israel and underlined that "Israel's right to self-defence is absolutely unconditional". He added that Britain's 1939 White Paper capping immigration to Palestine was a "black moment" in history.
As Foreign Secretary, Boris Johnson told supporters at CFI's Conservative Party Conference Reception in 2016 that "Britain and Israel are both countries where our dreams are still bigger than their achievements" and declared that "our best days are ahead". He added: "We must stand and work together; Britain, Israel and Conservative Friends of Israel can build those dreams together".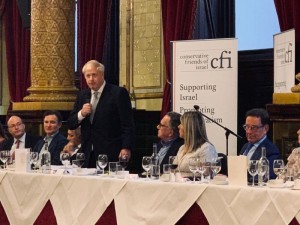 Boris Johnson addresses CFI supporters last week
Addressing CFI supporters last week, Boris Johnson said he was "very proud" to have been asked to lead the Balfour Declaration Centenary celebrations in 2017 as Foreign Secretary, which he said was a "fantastic moment for our country and Israel".
Mr Johnson affirmed his support for the UK Holocaust Memorial and Learning Centre next to Parliament, commending CFI's Parliamentary Chairman in the House of Lords, Rt Hon Lord Pickles, for his work as the Prime Minister's Special Envoy for Post-Holocaust issues.
He expressed his "profound" opposition to the "absolutely absurd" Boycott, Divestment and Sanctions (BDS) movement against Israel, which "disadvantage the very people that the proponents of BDS purport to want to help".
Reflecting on the Middle East Peace Process, Mr Johnson expressed his concern that the Palestinian leadership has all too often been "invested in chronic failure" and "don't have a real interest in finding a solution". He added that "the greatest hope for peace in that area is through joint economic progress".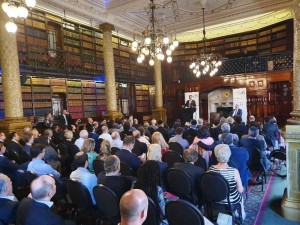 Foreign Secretary Jeremy Hunt at CFI leadership hustings yesterday
At a hustings event yesterday chaired by CFI Honorary President Lord Polak CBE, Foreign Secretary Jeremy Hunt told CFI supporters that the UK must "stand shoulder to shoulder with our allies in Israel", highlighting "the shared values that we have with Israel, as a beacon for democracy in the Middle East".
Mr Hunt condemned rising levels of antisemitism in the Labour Party, asserting that the "biggest threat" facing the UK is "the most ruthless, dangerous, anti-Western, anti-British, hard left cabal in the Labour Party led by Jeremy Corbyn". He underlined: "That is why we need to unite as the Conservative Friends of Israel, with the Conservative Party as a whole and recognise this real and present danger in our country".
The Foreign Secretary rejected calls for boycotts against Israel, stating that "Israel is a flourishing economy that we should trade with as much as possible" and emphasising the need to explore additional bilateral trade opportunities.
On the subject of Iran, Mr Hunt made clear that there "can be no stability in the Middle East… unless Iran stops or is stopped from its destabilising activities", expressing his concern about the country's support for regional terrorism.
The race for Number 10 continues…
The Conservative Party membership will receive their postal ballots between 6-8th July and must return their ballot by Monday 22nd July, after which votes will not be counted. A final posting date of Thursday 18th July is recommended.
If you are a party member and have not received a ballot pack by Thursday 11th July, please contact leadership@conservatives.com.
Please visit www.conservativehustings.com for details on the remaining hustings.