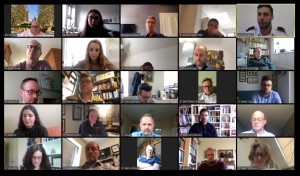 CFI hosted an online video briefing on Monday about Israel's response to coronavirus with Israel's emergency medical service, Magen David Adom (MDA), attended by Conservative parliamentarians.
The online briefing was chaired by CFI Parliamentary Chairman (Lords) Rt. Hon. The Lord Pickles.
It was a timely opportunity to hear from MDA's International Relations Coordinator and Paramedic, Uriel Goldberg, about the steps Israel is taking to combat coronavirus, and parliamentarians had the opportunity to ask questions about Israel's approach.
Among parliamentarians to attend were CFI Parliamentary Chairman (Commons) Rt. Hon. Stephen Crabb MP, CFI Honorary President Lord Polak CBE, CFI Vice-Chairman John Howell OBE MP, CFI Officers Mary Robinson MP, Matthew Offord MP, and Bob Blackman MP.
Magen David Adom UK's Chief Executive also joined the briefing.
Mr Goldberg spoke at length about MDA's work in combating the virus, including its 'drive-Thru' complexes across the country which are testing people for COVID-19, and its use of technology via the MDA app.
There are currently six permanent MDA 'drive-thru' sampling centres in Jerusalem, Tel Aviv, Haifa, Be'er Sheva, Bnei Barak, and Modi'in. In addition, three pop up 'drive-thru' centres have been opened today in Rahat, East Jerusalem and Ashdod.
Mr Goldberg said that the drive throughs have enabled MDA to more than double the amount of tests they are doing, from 2-3,000 previously to 8,000 today.
Attendees also learnt about MDA's collection of blood plasma from those recovered from coronavirus in order to treat the severely ill, and about MDA's new design of ventilators.
Watch a video of the briefing here.