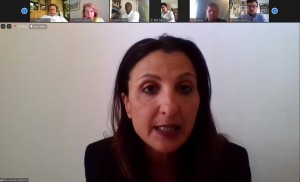 CFI hosted a webinar on Monday with Deputy Mayor of Jerusalem Fleur Hassan-Nahoum on Monday, who spoke about the city's response to Covid-19.
The webinar was chaired by CFI Honorary President Lord Polak CBE,  and attended by over 50 Conservative parliamentarians and Conservative Candidate for London Mayor Shaun Bailey.
Born in London, Fleur Hassan-Nahoum is currently the only British politician in Israel, serving as Deputy Mayor of Jerusalem since October 2018.
She is involved in the advancement of women's rights and marginalised groups in the city, in the development of Jerusalem as a hi-tech ecosystem and the fight for a pluralistic Jerusalem.
In the webinar, the Deputy-Mayor pointed out that Jerusalem is both the "largest and poorest city in the country". In the battle against Covid-19, she underlined that the "populations of east and west Jerusalem are fighting the same enemy".
Speaking about the city's large Arab community East Jerusalem, she said that "this crisis has provided an incredible opportunity to cement ties". Detailing the work that the municipality has put in place, she said that "making sure that the Arab community feels represented in the city" was a priority, and that there has been "incredible cooperation with leaders and civil society" in East Jerusalem in tackling Covid-19.
Deputy Mayor Hassan-Nahoum also spoke about the Ultra-Orthodox community's response to the crisis and highlighted the significance of the IDF delivering food packages to them. She pointed out that 70% coronavirus patients in Israel are from the Ultra-Orthodox community.
Responding to a question by Conservative London Mayoral Candidate Shaun Bailey on tourism and the impact on Jerusalem's economy, she said that she would like to "position Jerusalem as the city in post Corona tourism that people feel safe".
The Deputy Mayor said they had been looking at options including open air sites rather than enclosed attractions; exploring tech that limits the numbers of people in a particular site; resetting dining facilities; and tech where customers have less contact with staff at hotels.
Watch the webinar here: