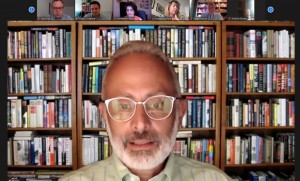 CFI hosted a webinar this week with renowned Israeli political scientist Professor Reuven Hazan, on Israel's political landscape following 18 months of political drama in the country.
Over 20 Conservative parliamentarians joined the webinar, which was chaired by CFI Parliamentary Chairman (Commons) Rt. Hon. Stephen Crabb MP.
Among those to attend included CFI Vice Chair John Howell OBE MP, CFI Officers Mary Robinson MP and Bob Blackman MP, Rt. Hon. Theresa Villiers MP, Lord Arbuthnot, and Maria Caulfield MP.
The Hebrew University Professor gave parliamentarians a round up of the unprecedented three elections that took place in the space of a year, and explained Israel's political system.
Professor Hazan also spoke about Israeli politics within the context of Covid-19, and highlighted what to look out for in the coming months.