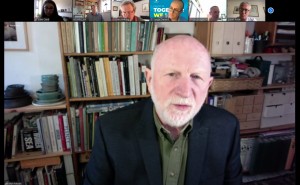 CFI hosted Israel's leading expert on infectious diseases Professor Allon Moses in an online briefing about COVID-19 today, chaired by CFI Vice-Chairman John Howell MP OBE.
Professor Allon was previously the President of the Israel Society for Infectious Diseases and was  Director of the Department for Microbiology and Infectious Diseases at the Hadassah Medical Centre.
After Professor Moses's briefing, Conservative parliamentarians asked questions about the disease, lockdown and face masks in a Q&A.
Among parliamentarians to attend the briefing included CFI Parliamentary Chairmen Rt. Hon. Stephen Crabb MP and Rt. Hon. The Lord Pickles, CFI Honorary President Lord Polak CBE, Nicola Richards MP, Miriam Cates MP, James Morris MP, Tim Loughton MP, Giles Watling MP and Lord Livingston.
Professor Allon spoke about the response of Israel to combat COVID-19 as well as efforts of governments around the world, emphasising that the pandemic raises social, political and economic questions.
He emphasised that as COVID-19 "is completely new to the population" and unknown to our immune system, the "ultimate goal" is to find a vaccine. Professor Allon added that "until then, we want to find the best drug that will slow the epidemic", pointing out that there are currently studies taking place in laboratories around the world on various antiviral drugs on the efficacy of treating COVID-19.
On testing, Professor Allon stressed that the world is united in the struggle to "find the best, fastest and most reliable test", and that testing and contact tracing is important in order to find out where the virus is in the population. He said that there are now almost 20 labs in Israel that are carrying out COVID-19 tests, and that 10-15,000 tests are being carried out each day.
On the question of face masks, Professor Allon said that data shows masks are more effective for those who already have the virus to stop the spread. However, he agreed with the recommendation that everyone in society should be wearing masks.
Click here to watch the briefing.