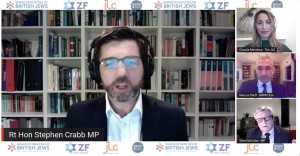 This week, CFI's Parliamentary Chairman in the House of Commons, Rt. Hon. Stephen Crabb MP, raised concerns over material inciting violence against Israel and Jews in the official Palestinian Authority curriculum in an article for the Jewish News and during an online event on the subject.
In the article, Mr Crabb stated that the "unintended consequence of funding Palestinian teachers and providing aid to the UN Relief and Works Agency (UNRWA) is the indoctrination of impressionable children".
"In the UK, we should rightly be proud of our reputation as a leading foreign aid donor, yet this is undermined by our inadvertent support for extremism in the Palestinian Territories", he wrote.
The former Cabinet Minister called on the UK Government to "acknowledge that proper scrutiny and accountability is long overdue" and "recalibrate our aid strategy".
Speaking at an event hosted by the Board of Deputies of British Jews, the Jewish Leadership Council, the Zionist Federation and We Believe in Israel, the former Cabinet Minister identified "a direct link between this indoctrination and the participation of Palestinian minors in acts of violence against Israelis".
"We should be in no doubt that Palestinian incitement makes peace harder to achieve", he underlined.
CFI Vice-Chairman Rt. Hon. Theresa Villiers MP said this week that "the UK government must take urgent action to ensure our aid promotes peace, not violence", adding that she "first raised the issue of incitement in Palestinian textbooks in the European Parliament nearly 20 years ago".
Conservative MP Jonathan Gullis, who led a parliamentary debate on the subject in March last year, said that "UK taxpayers rightly expect their hard-earned money to be used to support prospects for peace, yet this expectation is not being met". "Continued inaction has resulted in another year of Palestinian children being indoctrinated under our watch – we must act now", he emphasised.