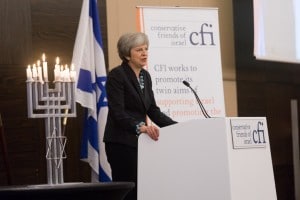 CFI has thanked Prime Minister Theresa May for her "steadfast" and "invaluable" support of Israel and for her leadership in strengthening the UK-Israel relationship and fighting anti-Jewish racism, following the announcement that she will resign as Conservative Party leader on 7th June.
CFI's Parliamentary Chairmen and Directors said:
"Prime Minister Theresa May has been a steadfast supporter of the State of Israel and a champion of the UK's Jewish community. Theresa May has fiercely fought anti-Jewish racism and it is thanks to her that the community has received record levels of financial support for its security at this difficult time. Under her leadership, the UK-Israel relationship has gone from strength to strength with record bilateral trade, the much anticipated first ever official visit to Israel by a member of the Royal Family took place, and the Hezbollah terror group was proscribed. CFI would like to thank her for her invaluable support".