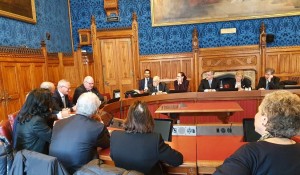 This week, CFI Honorary President Lord Polak CBE hosted a group of senior leaders from the Anti-Defamation League (ADL) for a range of meetings in Parliament discussing rising levels of antisemitism and extremism in the UK and worldwide.
The delegation met with Conservative parliamentarians including CFI Parliamentary Chairman (Lords) Rt. Hon. Lord Pickles, who gave the group an overview of his work as the UK's Special Envoy for Post-Holocaust Issues.
Minister of State for Countering Extremism, Baroness Williams of Trafford, also met the delegation, which included Jonathan Greenblatt, National Director and CEO of the ADL, and Sharon Nazarian, ADL Senior Vice President for International Affairs, to share approaches on countering online extremism.
Labour Friends of Israel Chairman Rt. Hon. Joan Ryan MP and Vice-Chair Dame Louise Ellman MP joined the group for additional discussions.