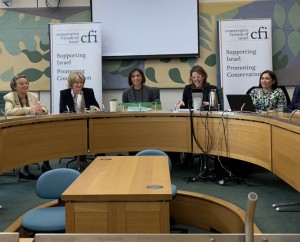 Over 50 Conservative MPs and CFI supporters attended a panel event hosted by CFI in Parliament this week to mark International Women's Day. On the panel were Deputy Ambassador of Israel, Sharon Bar-Li, Women2Win co-founder Baroness Jenkin, CFI Officer Mary Robinson MP, and Nicola Richards MP. The event was chaired by CFI deputy Chair Hilda Worth.
The event was attended by two other new female Conservative MP: Nickie Aitken and Miriam Cates.
Nickie Aiken is the first female MP for the Cities of London and Westminster since the constituency was established 722 years ago.
Each panelist shared their unique journey into diplomacy and politics as well as their thoughts on the representation of women across society in the UK and Israel.
There was a strong emphasis among all of the women on the panel about the importance of helping more women get politics at a local and national level. Mary Robinson MP, in particular, highlighted the need to help female candidates onto the shortlist for safe seats, instead of using all women shortlists.
Nicola Richards MP, who at the age of 25, is one of the youngest MPs in parliament discussed how she would not be in this position, if she had not first started as a local councillor.
Deputy Ambassador of Israel Sharon Bar-Li, said that for her, International Women's Day means helping each other to empower other women. She stressed: "It's not enough for us to be in a position of power, to be trailblazers… we need to use that position to help other women".
She went on to discuss how the issue of gender equality is not just in the interest of women, but for society as a whole: "In every sphere, where there is gender equality, you find higher levels of creativity, a wider variety of different views and outlooks and higher rates of productivity
Baroness Jenkin discussed how IWD is a time to reflect on how much women have achieved during the years. She said that since women bring life experiences that are different, it is necessary that they are present in all areas of life.
Baroness Jenkin said: "There's more to be done, we can celebrate as it's International Women's Day", but emphasised the need to continue the fight for equal representation, adding: "I am fearful of us slinking backwards.
Mary Robinson MP added that women have brought unique skills to politics and that "you don't have to be an extraordinary woman to get into politics". She stressed how important it is that we recognise the women who help other women get along in life, stating that these women are the real "heroes". For Mary, International Women's Day is a chance to recognise all the little, unextraordinary things women do to help others.
Watch a video of the event on CFI's Youtube.