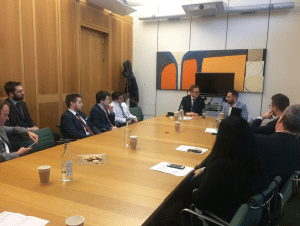 This week MPs and parliamentary researchers attended a special briefing with Hen Mazzig, a writer and former humanitarian affairs officer in the IDF's COGAT unit in the West Bank, where he served as an openly gay officer for almost five years.
At the briefing, chaired by John Lamont MP, attendees heard about Hen's experience in 2016, when he was invited to speak about his humanitarian work at a University College London (UCL) event, which quickly turned into a violent anti-Israel protest where protesters chanted and banged on the windows of the lecture room which Hen spoke in. Hen and the event's attendees had to be escorted out by 30 police officers due to the aggressive threats.
Among parliamentarians in attendance were Nick Herbert MP, CFI Officer Bob Blackman MP, and Mike Freer MP.
As an international speaker, writer and LGBTQ activist, Hen welcomed questions and strong support from those who attended, and discussed issues such as antisemitism on university campuses in the UK, and returning back to UCL for another talk, during his current visit. Part of his story also touched on his family, who came from Iraq and North Africa (Berber Jews from Tunisia) among 850,000 Jewish refugees from Arab countries.
Mr Mazzig said the hostility he faced was a "protest against freedom of speech and the values we cherish as a society", and welcomed the UK Government's action in adopting the IHRA definition of antisemitism.