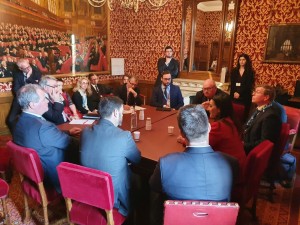 CFI hosted a briefing event in Parliament this week with Fleur Hassan-Nahoum, the Deputy Mayor of Jerusalem, which was attended by over a dozen Conservative MPs and peers.
Deputy Mayor Hassan-Nahoum is involved in the progression of women's rights and marginalised groups in Jerusalem, in the expansion of the city as a hi-tech ecosystem and the fight for a diverse Jerusalem.
The briefing was chaired by CFI Parliamentary Chairman (Commons) Rt. Hon. Stephen Crabb MP, and attendees included five newly elected MPs as well as CFI Parliamentary Chairman Rt. Hon. The Lord Pickles.
She spoke about her work to increase prosperity and opportunities in tech and business for the Arab community in East Jerusalem, through a high tech hub in the city, dubbed as 'Silicon Wadi'. The Deputy Mayor pointed out that workforce participation of women in East Jerusalem is the lowest in the Middle East. Meanwhile in the rest of the city, she highlighted that Ultra Orthodox men had a low workforce participation.
Deputy Mayor Hassan-Nahoum underlined that "Jerusalem is a shared city", and spoke of the importance of increasing political participation from the Arab communities in local elections.
The Deputy Mayor also called for an end to antisemitic incitement in UNRWA school textbooks, giving examples of glorification of terrorism in the textbooks. She pointed out that the Netherlands, Switzerland, New Zealand and Belgium suspended donations to UNRWA due to its corruption and incitement. In lieu of US funding, the UK has pledged £65.5 million to UNRWA for 2019-2020.
Born in London, Fleur Hassan-Nahoum is currently the only British politician in Israel, serving as Deputy Mayor of Jerusalem since October 2018.