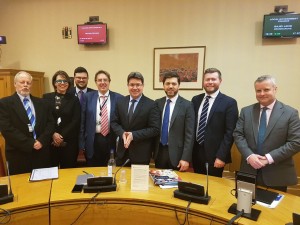 Israel's Science and Technology Minister Ofir Akunis MK, visited London this week and met with Conservative MPs and peers at a CFI briefing event in Parliament.
Among Conservative parliamentarians to attend included CFI Parliamentary Chairman, Rt. Hon. Stephen Crabb MP, who chaired the meeting, Vice-Chairman of CFI, John Howell OBE MP, CFI Officer Chris Davies MP, Rt. Hon. Lord Arbuthnot, Baroness Jenkin, Baroness Redfern, Lord Popat, Colin Clark MP, Damien Moore MP, and Chris Davies MP.
Deputy Ambassador at the Israeli Embassy to London, Sharon Bar-Li, was also present.
In the briefing, Minister Akunis spoke about his policies to promote engagement in science and technology in the Israeli population, including the 'Computer for Every Child' initiative, which provides access to technology to the poorest children in Israel – across all communities.
Minister Akunis answered questions from parliamentarians on a number of issues, including the peace process with the Palestinians, Iran's involvement in Syria, oil and gas, and BDS.
Mr Akunis has served as Minister of Science and Technology since 2015, and is a Member of the Knesset for the Likud Party.
He previously served as Minister in the Communications Department, Deputy Minister of Environmental Protection, and Deputy Minister in the Prime Minister's office.
During his visit, Minister Akunis also met Minister of Defence Guto Bebb MP, CFI Vice-Chairman Andrew Percy MP, and CFI Officer Matthew Offord MP, as well as representatives from Labour Friends of Israel.