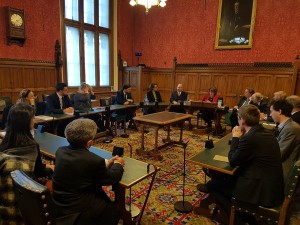 Conservative Parliamentarians this week attended a cross-party briefing in the House of Commons with Dr Yossi Draznin, Director General of the Israeli Ministry for Regional Cooperation.
The event was hosted by the All-Party Britain-Israel Parliamentary Group, in coordination with CFI and LFI.
Dr Draznin leads the Ministry's efforts to advance economic regional cooperation between Israel and its neighbours, with a focus on the Palestinian Authority, Jordan, and Egypt, in partnership with the international community.
Dr Draznin underlined: "Our job is to get things done, and we do it by regional cooperation".
He outlined the steps Israel is taking to ensure cooperation with its neighbours within an unstable region, including the Red Sea-Dead Sea project between Jordan and Israel, to eliminate the shrinking of the Dead Sea.
He also spoke about the reconstruction of Gaza and Israel's work to improve the humanitarian situation in the territory, despite the challenges posed by the threat of Hamas and its misappropriation of aid.
Among Conservatives in attendance were: CFI Parliamentary Chairman Rt. Hon. Stephen Crabb MP, CFI Vice Chairman John Howell OBE MP, Baroness Jenkin, and Lord Shinkwin.
The event was chaired by Labour MP Louise Ellman, who is Chair of the APPG.