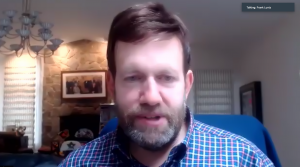 Over 30 Conservative parliamentarians attended a CFI special web briefing on the US election on Monday, with renowned American political commentator and pollster, Frank Luntz.
Mr Luntz is one of the most honoured communications professionals in America today and is the author of three New York Times best sellers.
Mr Luntz joined the webinar from the US to talk about the upcoming election, share his latest polling, and answer questions from parliamentarians.
Among Conservatives to attend included: former Conservative Party leader Sir Iain Duncan Smith MP, Chair of the Foreign Affairs Select Committee Tom Tugendhat MBE, Chair of the Defence Select Committee Rt. Hon. Tobias Ellwood MP, Rt. Hon. Chris Grayling MP, and former Chairman of the BBC Lord Grade CBE.
The webinar was chaired by CFI Parliamentary Chairman (Commons) Rt. Hon. Stephen Crabb MP.
Mr Luntz spoke to parliamentarians about the likely outcomes, rifts in American society, and whether there would be policy differences on Israel between the two potential administrations.