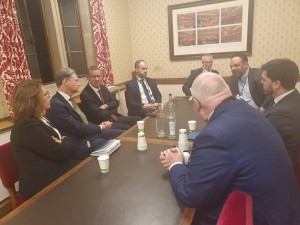 This week in Parliament, Conservative MPs and Lords were briefed by Dr Tal Becker, the Legal Adviser to the Israeli Ministry of Foreign Affairs, and Israeli Ambassador H.E. Mark Regev, on the latest challenges in the region.
Dr Becker, a Senior Fellow at the Shalom Hartman Institute in Jerusalem, detailed Israel's legal position regarding the International Criminal Court's (ICC) anticipated investigation into alleged Israeli war crimes.
In a wide-ranging discussion, parliamentarians considered Israel's position that the ICC lacks jurisdiction in this area, and that the investigation would undermine the peace process by incentivising the demonisation and vilification of each side.
Parliamentarians in attendance included CFI's Parliamentary Chairmen, Rt. Hon. Stephen Crabb MP and Rt. Hon. The Lord Pickles, as well as CFI Officers Paul Scully MP and Matthew Offord MP. CFI Honorary President Lord Polak CBE chaired the meeting.