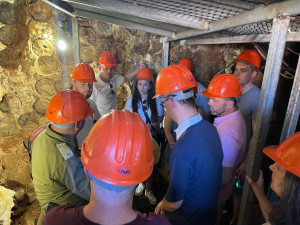 On Monday, 10 Conservative parliamentarians on a CFI delegation viewed a Hezbollah terror tunnel found leading into Israel from Lebanon.
During a visit to Israel's northern border with Lebanon, delegates received a strategic briefing from the Israel Defense Forces (IDF) inside the tunnel, which extends 2 kilometres from the Lebanese town of Ramya into Israel and 80 metres underground. Between December 2018 and January 2019, the IDF conducted Operation Northern Shield to locate and destroy underground tunnels dug by the Hezbollah terror into northern Israel from southern Lebanon. The Ramya tunnel visited by CFI was the longest and deepest tunnel found and sealed by the IDF.
CFI Parliamentary Chairmen Rt. Hon. Stephen Crabb MP and Rt. Hon. The Lord Pickles and CFI Honorary President Lord Polak CBE said: "The size, scale and sophistication of the Hezbollah tunnel was shocking. It is deeply disturbing that during an escalating humanitarian crisis in Lebanon, the Iran-backed Hezbollah terror group has invested in terror infrastructure with the intention of conducting attacks against Israelis. Iran's malign influence in the region and support for proxy terror groups is a direct threat to Israel's security and our visit to the tunnel was an important reminder why the UK Government made the right decision in proscribing the Hezbollah terror group".
7 MPs elected in 2019 are taking part in the delegation, with many visiting Israel for the first time. The group includes Louie French MP, Paul Holmes MP, David Johnston MP, Tom Randall MP, Nicola Richards MP, Gary Sambrook MP and Jacob Young MP.
The itinerary features a series of meetings with senior Israeli and Palestinian politicians, journalists and analysts, as well as high-tech innovators and charities.
Conservative MPs and Lords met with Israeli Deputy Foreign Minister Idan Roll and visited the Israeli NGO Save a Child's Heart on Tuesday as part of the delegation.