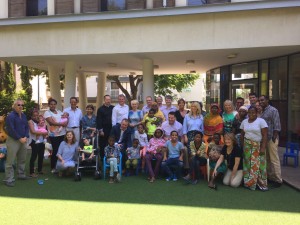 CFI is coordinating a delegation to Israel this week for five Conservative Members of Parliament and three Conservative Peers. The trip is CFI's ninth delegation since the General Election in May 2015.
The group includes a number of MPs from the 2010 intake who will be visiting Israel for the first time.
The itinerary features a series of high-level strategic briefings, as well as meetings with Israeli MKs and former Ambassador Danny Ayalon.
The group will visit Save a Child's Heart in Holon, an Israeli NGO that provides life-saving heart surgery for children from developing countries, including the Palestinian Territories. The parliamentarians will also meet with British Ambassador H.E. David Quarrey and the Israel-Britain Chamber of Commerce, as well as visiting Israel's northern borders with Syria and Lebanon.
New additions to the itinerary include a visit to the Jerusalem College of Technology, which works with Haredim in the high-tech sector, and a meeting with Rami Sherman, a team leader during Operation Entebbe.
CFI's Executive Director, James Gurd, said: "This is another exciting trip for CFI – our ninth since last year's General Election. By the end of this year, CFI will have taken as many as 100 Conservatives to Israel since May 2015 – an unprecedented number. The high demand for fact-finding visits to Israel highlights the strength of support for the Jewish state across the Conservative Party".