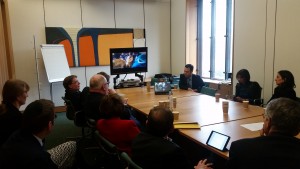 Yesterday in Parliament, a number of Conservative MPs attended a cross-party briefing from IsraAID – an Israeli humanitarian NGO committed to providing life-saving disaster relief.
At the event, chaired by CFI Officer Heather Wheeler MP, Parliamentarians were briefed on IsraAID's work in helping refugees fleeing Syria and Iraq into Western Europe, and victims of natural disasters worldwide.
IsraAID has a dedicated team in Greece providing medical support and psychological assistance to Syrian refugees and volunteers recently travelled to the Serbian border with Hungary to distribute supplies.
Since its founding in 2001, IsraAID's teams of professional medics, search and rescue squads, post-trauma experts and community mobilisers, have attended and provided assistance to almost every major humanitarian response in the 21st century.
IsraAid is an umbrella organisation for Israeli and Jewish groups offering humanitarian aid in disaster-struck areas. It has sent teams to locations around the world, including Sri Lanka, Peru, Nepal, South Sudan, the Phillipines and Haiti.
A number of Israeli volunteers, sent by IsraAID, arrived in Britain in January 2016 to help repair homes and distribute food and blankets in the north of England following Storm Desmond, which caused flash flooding.
Among Conservative MPs present were CFI Chairman Rt. Hon Sir Eric Pickles MP and John Howell OBE MP. A number of cross-party Lords were also in attendance, including CFI Honorary President Lord Polak CBE.
Labour Friends of Israel Chair Rt. Hon. Joan Ryan MP and Louise Ellman MP also attended the briefing.
Watch a video of IsraAID's work in Lesbos here.