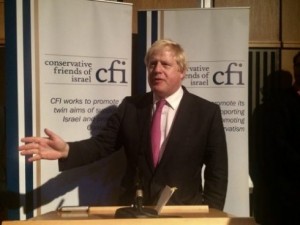 More than 500 Conservative parliamentarians, activists and supporters packed into CFI's biggest-ever Conservative Party Conference Reception on Tuesday 4th October to hear a keynote address from Foreign Secretary Boris Johnson.
A series of Secretaries of State and Government Ministers, as well as dozens of MPs attended the event, which has become one of the main events on the Conference calendar. Attendees included, Business Secretary Greg Clark, International Trade Secretary Liam Fox and Communities and Local Government Secretary Sajid Javid. The event was also attended by Chairman of the Foreign Affairs Select Committee, Crispin Blunt MP, and Ambassador of Israel, H.E. Mark Regev, who made his first appearance at Conservative Party Conference.
The Foreign Secretary used his speech to assert that the UK and Israel "must stand and work together" and commemorate the life of the late Shimon Peres, who he described as "extraordinary".
Expressing his "privilege" to attend the funeral of Shimon Peres in Jerusalem last week, Mr Johnson recalled some of the former President's achievements – "founding the Israeli Defense Forces, leading Israel's nuclear programme, championing – as he did right until the very end – Israel's astonishing tech sector, to say nothing of holding virtually every political office in Israel".
Boris observed that the world leaders attending President Peres' funeral were "dwarfed by the achievements of this extraordinary man".
In a moving retelling of a meeting with Shimon Peres and students in 2015, the Foreign Secretary spoke of a series of epigrams Shimon had used and struck him, including "I lived a long-life because I have a full day".
In closing, Mr Johnson vowed that Israel and the UK "must stand and work together" and said that the "best days" lie ahead of the two countries. Recalling an additional epigram from Shimon Peres, Mr Johnson said: "'Count your dreams and your achievements. If your dreams are bigger than your achievements then you are young. If your achievements are bigger than your dreams then you are old'. I put it to you that Britain and Israel are both countries where our dreams are still bigger than their achievements. Our best days are ahead. We must stand and work together. Britain, Israel and Conservative Friends of Israel can build those dreams together".
In a warm atmosphere, CFI Parliamentary Chairman, Rt. Hon. Sir Eric Pickles MP, called on a series of Secretaries of States and senior Conservative MPs to address the 400-capacity room.
Secretary of State for Business, Energy and Industrial Strategy, Rt. Hon. Greg Clark MP, spoke of the "inspirational and profitable" business relationship between the UK and Israel. The Business Secretary stated: "The relationship we have between the UK and Israel, especially on technology and the hive of innovation that we have in Israeli businesses, has long been a source of inspiration and profitable collaboration between us. I hope that by working together we can continue to forge a very prosperous and effective relationship together on the industrial side, but also in the context of the great friendship that there is not just between the two countries but very much between the Conservative Party, in which we all very much count ourselves as friends of Israel".
On the issue of anti-Semitism, former Secretary of State for Northern Ireland, Rt. Hon. Theresa Villiers MP said: "I find the situation in the official Opposition to be deeply worrying… Labour has a very serious problem with anti-Semitism. I don't think this is just a Corbyn problem – this is a Labour problem. It's shocking that Labour women MPs, like Ruth Smeeth, have been subjected to vile anti-Semitism and I do not think Labour's leadership is taking it seriously".
CFI's Parliamentary Chairman, Rt. Hon. Sir Eric Pickles MP, added: "I never ever thought I'd have to go on television and explain to the nation that Adolf Hitler wasn't a Zionist. We need to explain the nature of anti-Semitism to a new generation. It's a shocking thing that our fellow citizens should feel fearful on the street; that our fellow citizens should be worried about going to a synagogue".
Ambassador of Israel, H.E. Mark Regev, thanked Prime Minister Theresa May for her "powerful message of support and friendship for Israel" in a letter recently written for CFI's new Informed Magazine. He asserted: "I know that in Prime Minister Theresa May, the Jewish State and the Jewish people have a great ally".
He proceeded to thank CFI for all their work to "strengthen the alliance between Britain and the State of Israel".
Ambassador Regev spoke of Shimon Peres as a "great visionary of peace", before emphasising: "Shimon knew that peace can only be built through dialogue. Israel today remains committed to dialogue. Israel is ready to immediately restart peace talks without any preconditions whatsoever. It's high time the Palestinians stopped their posturing and agreed to return to the negotiating table".
Turning to the upcoming centenary of the Balfour Declaration, Ambassador Regev noted that it was a Conservative Foreign Secretary that had "recognised the Jewish peoples' right to national self-determination in our historic homeland. It's a centenary we will celebrate next year – we will remind people in the UK and in Israel of the remarkable historic bond between our two peoples".
The Ambassador concluded by highlighting the shared values between the UK and Israel. He said: "When British people take a hard look at the Middle East and they search for a society that reflects British values – like democracy, the rule of law, individual liberty, human rights – there is only one country in the vast Middle East that truly shares those values. In being friends of Israel you are not only standing up for British values, you are also standing up for Britain's fundamental interests. When Britain and Israel cooperate in cyber IT, fintech, in spawning new start-up companies, we both benefit. When Britain and Israel work together in defence, intelligence and counter-terrorism we are all safer. In the new post-Brexit reality, as we further expand our cooperation, we will be making the lives of both the British people and the Israeli people more prosperous and more secure".
The event brought an end to another successful Conservative Party Conference for CFI, as we signed up as many as 100 new members at our exhibition stand. The CFI exhibition stand was a hive of activity all week with many MPs and hundreds of Conservative delegates from across the Party visiting to sample Israeli wine, and read CFI literature – including the new edition of Informed Magazine, which features a letter from Prime Minister Theresa May.