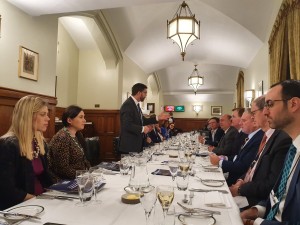 This week, 20 Conservative MPs and Lords attended a cross-party lunch briefing hosted by the Friends of Israel Initiative (FOII) with former Canadian Foreign Minister Hon. John Baird. CFI's Parliamentary Chairman in the House of Commons, Rt. Hon. Stephen Crabb MP, chaired the meeting.
Mr Baird warned parliamentarians of Iran's malign influence in the region and outlined the regime's human rights abuses against the Iranian people. In recent months, peaceful protests have been violently crushed by the Iranian police, with hundreds of civilians killed.
The former Canadian Cabinet Minister welcomed the UK Government's decision last year to fully proscribe Iranian proxy Hezbollah as a terror group, and urged countries to take a "harder diplomatic line on Iran".
Conservative parliamentarians in attendance included former Defence Minister Rt Hon Tobias Ellwood MP and former BBC Chairman Lord Grade CBE as well as five newly elected MPs.
At the event, the FOII launched its latest publication on "Iran's Clandestine Nuclear Archives", which encourages the international community to "adopt serious measures to prevent Iran from starting up its nuclear weapons programme" in light of Israel's discovery of Iran's nuclear archive in 2018.