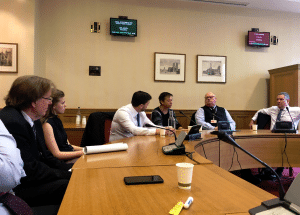 Israeli academic and former IDF head of combat intelligence Miri Eisin gave insights to Conservative parliamentarians about the current security challenges facing Israel, at a CFI briefing in Parliament this week.
The event was chaired by CFI Parliamentary Chairman (Lords) Rt. Hon. Lord Pickles, and attended by CFI Parliamentary Chairman (Commons) Rt. Hon. Stephen Crabb MP, CFI Vice-Chair John Howell OBE MP, and CFI Officers Guto Bebb MP and Baroness Altmann CBE.
Miri served in Israel's intelligence community for over twenty years rising to the rank of colonel, before becoming Israeli government spokesperson during the 2006 Second Lebanon War.
She went on to serve as senior advisor to Prime Minister Ehud Olmert and Defence Minister Ehud Barak during the Annapolis Conference peace negotiations between Israel and the Palestinian Authority in 2007.
Miri now teaches at the Interdisciplinary Center in Herzliya on Middle Eastern geo-politics, the Israeli-Arab conflict, and women in Israeli society, and regularly leads high-profile strategic tours of Israel, including for CFI.