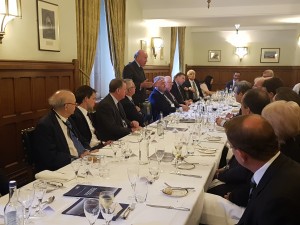 This week in Parliament, cross-party MPs and Lords attended a lunch briefing with General Lord Dannatt, former Chief of the General Staff of the British Army, hosted by the Friends of Israel Initiative.
Lord Dannatt is a member of the High Level Military Group (HLMG) along with Colonel Richard Kemp who was also present at the lunch. He referred to a recent HLMG assessment of Hezbollah in Lebanon which suggests how to "prevent a third Lebanon war".
Lord Dannatt addressed parliamentarians before receiving questions, underlining that Iranian proxy Hezbollah "creates an existential threat to Israel". He added that Hezbollah's rockets are able to "strike targets in the length, depth and breadth of the country".
Lord Dannatt emphasised that there is no distinction between Hezbollah's military and non-military activities, rejecting the "artificial understanding of political and military wings of Hezbollah".
He highlighted the increasing influence of Iran in Syria and the region, which has contributed to the alignment of interests between Israel and Sunni Muslim states, leading to a turn in relations between Israel and Sunni Muslim states including Saudi Arabia.
Conservative MPs and Lords in attendance included: CFI Officer Bob Blackman MP, Sir Graham Brady MP, Andrew Bowie MP, Philip Hollobone MP, Luke Graham MP, Paul Scully MP, Alberto Costa MP, Simon Clarke MP, CFI Honorary President Lord Polak CBE, CFI Officer Rt. Hon. Lord Trimble, Baroness Redfern and Baroness Scott OBE.