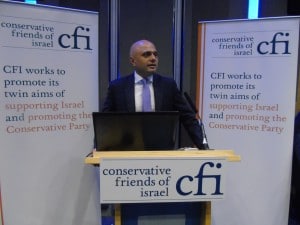 As many as 500 Conservative delegates packed into CFI's Conservative Party Conference Reception on Tuesday 2nd October to hear a keynote address from Home Secretary Sajid Javid, as well as a series of Secretaries of State.
The event was attended by around 50 MPs and Government Ministers, which has cemented its place as one of the main events on the Conservative Party Conference fringe calendar.
Attendees included, Defence Secretary Gavin Williamson, Communities and Local Government Secretary James Brokenshire, Party Chairman Brandon Lewis, Middle East Minister Alistair Burt and newly elected Conservative London Mayoral Candidate Shaun Bailey.
The Home Secretary, Rt. Hon. Sajid Javid MP, reflected on his first visit to Israel with CFI after being elected in 2010: "It was a very eye-opening visit and showed me exactly what CFI does and how it helps so many MPs in the Conservative Party understand what Israel and the surrounding area is really about".
To loud applause, he added: "I vowed to myself that whatever opportunity I get in Government I will always try to help and support Israel, and that's what I've done ever since".
The Home Secretary confirmed that he was "looking at what more we can do to strengthen our already strong partnership with Israel, especially in security".
Highlighting his concerns over rising antisemitism, Mr Javid said: "One of the things that I'm glad I did, but it does sadden me… was look to see what more we can do to combat the rise in antisemitism in our country. And that led to the first General Debate ever in our Parliament on antisemitism, which I was proud to lead for this Government".
He underlined: "Now as Home Secretary, there is so much more I want to do, and I am doing, and I will continue to do, to work with Israel. Already I have made it absolutely clear that the Home Office will continue to support our Jewish friends, our Jewish population in this country in every way that we can".
Introducing the Home Secretary, former Cabinet Minister Rt. Hon. Robert Halfon MP emphasised: "It's easy to be friends with the State of Israel when things are going well… when you're talking about trade, and when we've got good relations. But it's much harder to be a friend when things are going badly… Sajid is a true friend of Israel, whatever the circumstances, whatever the difficulties that the country faces".
Other speakers to address the full room included, CFI's co-chairmen Rt. Hon. Stephen Crabb MP (Commons) and Rt. Hon. The Lord Pickles (Lords), CFI Vice Chairman Rt. Hon. Theresa Villiers, Ambassador of Israel H.E. Mark Regev, and CFI Chairman Andrew Heller.
The Secretary of State for Communities and Local Government, Rt. Hon. James Brokenshire MP praised CFI for the "incredible job" it does in "ensuring there is a good understanding between the United Kingdom and Israel and ensuring that those strong links remain in place".
Mr Brokenshire emphasised: "We stand firmly with the State of Israel. It is since the creation of Israel 70 years ago that the UK and Israel have shared an enduring partnership – in technology, medicine, academia and in our shared values".
Restating the "responsibility" of the Conservative Party to "stand up and call out antisemitism wherever we see it", Mr Brokenshire pledged that the Government would "ensure the Jewish community in this country feels valued, feels protected and they know that we are on their side".
He also commended the work of Rt. Hon. The Lord Pickles for leading the development and construction of a national Holocaust Memorial and Learning Centre, which he described as being "really important to underline that these issues of division are still live and relevant… The lessons from the past are relevant to our present and our future".
Defence Secretary Rt. Hon. Gavin Williamson MP praised the UK-Israel relationship, stating: "In terms of defence, Britain and Israel are working increasingly closely together. There's a real bond and a real understanding about the importance of working together". "That bond, that friendship is so vitally important to both nations", he added.
Mr Williamson reflected: "On my first visit to Israel…I was struck by the vibrancy of the nation, the courage of the nation and the optimism of the nation – great qualities that define the nation and make it as strong as it is. But even nations that have such strength need to have good friends and that is what I believe Britain will always be to the State of Israel".
Conservative Party Chairman Rt. Hon. Brandon Lewis MP also expressed his support for CFI, telling the audience of 500: "I just want to say to everyone in the room… It really does matter, what you do, your support with the party, how you back us up in campaigning and how you help all over the country really makes a difference".
Chairing the event, CFI's Parliamentary Chairman in the House of Lords, Rt. Hon. The Lord Pickles, made clear that "Conservative Friends of Israel stands against all prejudice" adding: "Antisemitism is not a political issue, it is a vile cancer in society and we will work with anyone who stands with us against antisemitism, anti-Muslim activity or any prejudice".
Opening the event, CFI's Parliamentary Chairman in the House of Commons, Rt. Hon. Stephen Crabb MP asserted the importance of "standing shoulder to shoulder with Israel and defending the right of the State of Israel to protect its own citizens from attack". He added: "We ask no other nation on earth to outsource its own defence to somebody else and we don't ask that of the Israeli state.
Mr Crabb reflected on a "year of celebrations for Israel", and also condemned the "hatred of antisemitism…rearing it's ugly head in British politics". He asserted: "We work with some very brave and courageous Labour MPs that stand with Labour Friends of Israel. The bravery that they show when they stand up…to defend Israel is something to be admired".
Newly elected Conservative London Mayoral Candidate Shaun Bailey pledged his commitment to standing alongside the Jewish community in the fight against antisemitism and reflected on his visit to Israel with CFI several years ago. He said: "I'm a CFI graduate. A few years ago CFI took me to Israel and it was an eye opening experience… To see the daily threat that Israeli families and children live with. It opened my eyes to what is what really is going on. The work of CFI is beyond measure. It is beyond value".
Israel's Ambassador to the UK, H.E. Mark Regev, thanked the Home Secretary for the UK Government's commemoration of the centenary of the Balfour Declaration: "It was your Government that proudly acknowledged Britain's important role in Israel's rebirth, and it was your Prime Minister who invited my Prime Minister to London to mark this historic occasion alongside her".
Expressing his fears about antisemitism, Ambassador Regev said: "Antisemitism has raised its ugly head in British public life, both blatantly, and masquerading as so-called 'anti-Zionism'. These threats are unfortunately not going to disappear. They must continue to be fought with vigour and vigilance. And tonight, I want to say to the Home Secretary, a personal thanks to you for doing exactly that".
Addressing the Home Secretary, the Israeli Ambassador affirmed: "Israel is proud to be one of your closest friends and allies".
CFI Vice-Chairman Rt. Hon. Theresa Villiers MP said that she is a "proud supporter of the State of Israel". The former Northern Ireland Secretary said: "I believe that it is an inspiring story, the history of Israel over the last 70 years, all it has created despite the adversity of hostility and invasion from its neighbours, and I am so pleased that so many Conservatives are here this evening to show our support for the State of Israel".
The event comes at the end of another successful Conservative Party Conference for CFI, as we have signed up as many as 150 new members at our exhibition stand – a record number. The CFI exhibition stand has been extremely busy with many MPs and hundreds of Conservative delegates from across the Party visiting to sample Israeli wine, and read CFI literature – including the new edition of Informed Magazine, which features a letter from Prime Minister Theresa May.