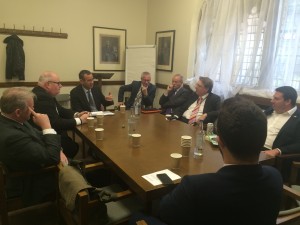 Ambassador for Israel, H.E. Mark Regev met with CFI's Parliamentary Officers this week in Parliament to discuss a number of issues related to Israel.
Among those in attendance were CFI's Parliamentary Chairman, Rt. Hon. Sir Eric Pickles MP, CFI Vice-Chairmen, John Howell MP OBE, Andrew Percy MP, and Wales Minister Guto Bebb MP, as well as Oliver Dowden MP, Mike Freer MP, and CFI's Honorary President Lord Polak.
The Ambassador addressed the MPs on a number of issues including UN Secretary General Ban Ki-moon's visit to Israel this week, Israel's reconciliation deal with Turkey, and the French Middle East peace initiative.