Ellen Steel, Head of CFI Israel Office
Fourth time lucky?
Israelis are now just one week away from their fourth visit to the polling booth in under two years, but if current polls are anything to go by, it seems like many are already preparing for a fifth visit.
A major study by the Israel Democracy Institute found that just 29% of Israelis think these elections will conclude the endless political deadlock the country has found itself in. The extraordinary figure is a clear indication of the frustration many Israelis are feeling in the run-up to polling day.
Election season kicked off formally last week when early voting opened for Israeli diplomats and embassy workers abroad. Over 4000 citizens were eligible to vote in 100 embassies and missions around the globe. Ambassador Ran Yaakoby won the coveted title of first voter of the season casting his ballot in Wellington, New Zealand. In an unprecedented first, following the Abraham Accords, ballot boxes were seen and votes were cast in embassies in Abu Dhabi, Bahrain, Dubai and Morocco.
What are the polls saying?
A considerable factor playing into Israelis' ambivalence surrounding these elections is that polling over the last few weeks has failed to provide a scenario where any leader is able to form a government.
Current polling would suggest the following outcome: Likud 28, Yesh Atid 20, Yamina 11, New Hope 9, Joint List 8, Yisrael Beitenu 7, UTJ 7, Shas 6, Labor 6, Right Bloc 6, Meretz 4, Blue and White 4 and Ra'am 4.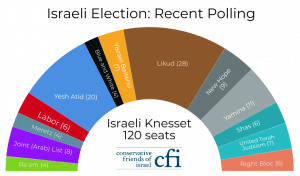 This set of polling would leave the right-bloc parties, presumably headed by Netanyahu, with 47 seats comprising of Likud, UTJ, Shas and the Right Bloc. Traditionally, Bennett's Yamina party would be politically aligned with these right parties and would bring its 11 seats culminating in 58 seats for the right camp. However, Bennett – a former Chief of Staff to Netanyahu – has vowed he will not sit with the current Prime Minister. The caveat – the Israeli public has witnessed political promises and claims repeatedly disregarded during coalition negotiations for top ministerial selections. Even if Bennett chooses to concede, the right camp under Netanyahu would still be unable to clinch the 61 seats required in order to proceed with forming a government.
At the start of this election campaign, most pollsters had predicted that Bennett would be the kingmaker. It was suggested that he and Gideon Sa'ar (New Hope) would form a right-wing coalition without the need of the Likud party, ousting them and sending Netanyahu to the opposition. While many Israelis saw this as an ideal scenario, polling has failed to corroborate this plan as both parties have been subjected to falling numbers preventing this scenario from playing out.
Currently, both the right and left camps are at a 58-seat status quo. While Bennett's decision will determine a part of Israel's political future, he will unlikely hold the cards that will decide who is in or out of the government. Should he choose to sit with Netanyahu the right-bloc will be at 58 seats, he will have broken his electoral promise and yet they will still be unable to pass the 61-seat threshold required to enter government. Should he decide to be a man of his word and not sit with Netanyahu he would bring his 11 seats to the left-bloc totaling 69, enough to from a government. This scenario is unlikely to result in the formation of an operational government though as Yamina's key policies include a Jewish State for Jewish people and an opposition to the creation of a State of Palestine. The original members of the left-bloc will be diametrically opposed to these policies and it will likely send the camp into disarray and failure, not success.
Entering election season, Bennett was heralded as the strong and stable leader primarily due to his pragmatic and welcomed approach throughout his dealings with the pandemic. However, over the last few weeks his approval rating has begun to drop. Officially, he has neither confirmed nor denied who he will support as Prime Minister, presumably hoping he may still have a chance at clinching top spot himself. While he has vowed to not sit with Netanyahu in government, he has also conceded to Netanyahu's request not to recommend Yair Lapid for the top spot. Bennett told the media that although he will not be recommending Lapid for this position, he has not ruled out sitting with him in a coalition. The message to the Israeli public is clear. Ostensibly, Bennett will make his decision once the results are released and he can assess where he will make the greatest personal gain.
Traditionally known as the left-bloc, the opposing group of politically-broad parties in this scenario has been rebranded as the anti-Netanyahu bloc. Presumably led by Yair Lapid, parties involved would be Yesh Atid, New Hope, Joint List, Yisrael Beitenu, Labor, Blue and White (the faltering party led by current Deputy Prime Minister Benny Gantz) and Meretz. Ironically, some of these parties have diametrically opposed ideologies, however, they have formed an uneasy and unofficial allegiance over a united goal. And yet, this new allegiance would also only have 58 seats combined and would be unable to advance.
In an unprecedented turn of events, the only party who are yet to pledge allegiance to a pro or anti Netanyahu camp are Ra'am who are expected to receive 4 seats. Led by Arab lawmaker Mansour Abbas, the Ra'am party formerly ran as part of the Joint List but have decided to run independently in the upcoming elections. Abbas's split from the Arab-majority Joint List has been a source of contention within the Arab community as previous elections saw the Joint List bloc rise in popularity and become the second largest party in the opposition. However, now that there are two separate Arab parties, overall polling and seat predictions have dropped – a consequence of Israel's PR electoral system.
Abbas's conservative Islamist party Ra'am's key priority is to fight violence and organised crime within Israel's Arab communities and ensure this is a central legislative priority. Abbas has continued making controversial suggestions over the course of this electoral campaign by crossing the unthinkable line of suggesting he would vote to give Netanyahu immunity from prosecution or even enter his coalition in return for a ministerial position that would help him advance his legislative priorities. When asked by Channel 13 who he would support, Abbas said "We aren't committed to anyone… We are committed to the Arab community. First, we'll finish elections, there will be results, and then we will discuss the questions and challenges we face".
Unexpectedly, a survey conducted by the Israel Democracy Institute found that 31% of Arab Israelis want Netanyahu to stay on as Prime Minister. Should Abbas want to gain more seats from within his community, this figure might suggest that if he pledged allegiance to Netanyahu, he could increase his voter base. It also explains why Netanyahu and his Likud party have made unprecedented efforts to attract voters from within the community.
As it stands, just one week prior to the Israeli elections a tiny party representing Israel's Arab community could end up as kingmaker in these elections and make the decision to end the Netanyahu era or return the power to the longest reigning Prime Minister in Israel's history.
Covid Secure Voting:
With 5.1 of 6 million eligible voters fully vaccinated, there is a hope that the upcoming elections will be able to take place in a somewhat traditional style. With the majority of lockdown restrictions eased, there has been great emphasis placed on ensuring the upcoming elections are Covid-secure to prevent a mass spread of infection and subsequent lockdown.
The adaptations being made to the electoral process will see the 23rd March election be the most expensive in the country's history with a budget of 674 million NIS ($202 million). Within the budget, 237 million NIS ($71 million) has been set aside for Covid adaptations.
The five-sixths of eligible voters who are vaccinated will be able to attend their polling stations as normal with the presentation of their green passport QR code. There has been an increase in the number of polling stations to reduce crowding and each station will have designated Covid marshals to ensure correct social distancing protocols are being followed.
Currently Israel has 37,000 active Covid cases. For these citizens, the government has funded special shuttles to Covid polling stations which will be non-contact and manned by electoral staff in full PPE. Citizens in isolation will be permitted to drive to one of the special isolation polling stations dotted around the country. To ensure the isolation polling stations have a continual flow of air, they will be located on public buses with the doors open. Citizens will get on the front on the bus, walk through and vote and then exit from the back doors. Only one person will be permitted on the bus at a time, and they will be sanitised between voters.
Israeli legislature prevents citizens living abroad from voting unless they are physically present in Israel. The law against absentee voting has caused controversy in recent weeks as Ben Gurion airport remains closed and international travellers have been largely unable to enter the country since the start of the pandemic.
In order to avoid legal challenges and voter discrimination, the airport has now opened to all citizens allowing them home to vote. The Central Elections Committee are intending to place polling booths at passport control in the airport in the run-up to the election to allow incoming citizens to vote and then enter their mandatory isolation period.
The upcoming elections will see 15,000 polling stations opened nationally, compared to the usual 11,000. While there has been no problem staffing mainstream locations, the Central Electoral Committee is struggling to staff the isolation and Covid polling stations. They're calling on volunteers from first-aid organisations, health care workers and medical students to help bridge the gap.
With the elections being held just three working days before the start of the Passover festival (where the majority of the country shuts down) and with thousands more additional ballot boxes than normal, there is a high chance that the results of these elections will be severely delayed.
Election Day:
And so, Israel returns to the polls next week. The country, however, has already experienced the challenges of conducting an election during a pandemic and the election last March actually had a voter turnout of 71.47%, higher than the previous two elections.
This election will see 39 parties competing to pass the electoral threshold and gain seats in the Knesset compared to 30 – March 2020, 31 – September 2019, 39 – April 2019.
Israelis will be voting for a party, and not a Prime Minister, in an electoral system based on nation-wide proportional representation. This means that the number of seats which every party list receives in the Knesset is proportional to the number of people who voted for it.
The electoral threshold is currently set at 3.25%, meaning that a party needs to win at least 3.25% of all votes (translating to 4 Knesset seats) in order to secure parliamentary representation.
After the votes are counted work begins to assemble a coalition (which needs at least 61 of the 120 Members of Knesset in order to function). The leader of the coalition will then be recommended as Prime Minister.
Who are Israelis voting for?
Among the main parties running:
Likud – Headed by Benjamin Netanyahu, Likud stands for national and economic liberalism and has been the traditional home of the mainstream right-wing since the 1970s when it was founded by Menachem Begin and Ariel Sharon. Likud have merged with the Gesher party for the upcoming elections.
Polling at: 28 seats March 2020: 36 seats September 2019: 31 seats April 2019: 35 seats
Tikva Hadasha (New Hope) – Gideon Sa'ar, Likud veteran, formed a new party which will debut in these elections as the main challenger to the Likud party. New Hope's key manifesto policies are promoting West Bank settlement expansion and the reformation of the judicial system. Many key Likud names have quit their party and will be running on New Hope's party list.
Polling at: 9 seats
Yamina (Right) – Established in December 2018 by former Justice Minister Ayelet Shaked, a secular nationalist and former Education Minister Naftali Bennett, a religious nationalist. Yamina aims to be a party open to both secular and religious nationalists promoting cooperation between religious and secular, the Land of Israel belonging to the Jewish people, opposition to a State of Palestine, economic liberalism and full civil rights for all minorities. Analysis suggests Yamina will be the kingmaker in the upcoming elections.
Polling at: 11 seats March 2020: 6 seats September 2019: 7 seats April 2019: 0 seats
Yesh Atid (There's a future) – Founded by Yair Lapid in 2012, Yesh Atid is one of the few centrist political parties in Israel. In the previous three elections they joined forces with Blue and White, however following Blue and White's leader Benny Gantz entering a coalition with Likud, Lapid chose to split off and sit in the opposition. Their main policies include improving civil life, political system reform, equality in education and army service, growth and economic efficiency and striving for peace while maintaining settlements.
Polling at: 20 seats March 2020 BWYA: 33 seats September 2019 BWYA: 33 seats April 2019 BWYA: 35 seats
The Joint (Arab) List – Three-strong Arab alliance comprising of: Ta'al (Arab Renewal), Hadash (Jewish/Arab Communist), and Balad (Arab-Palestinian nationalists). Led by Ayman Odeh the Joint List policies include striving for full national and civic rights and equality for Arab Israelis, working towards peace in the region, fighting against racism and working towards equal rights for women, workers and social justice. Ra'am (Islamist) led by Mansour Abbas has split from the Joint List and will be running independently in these elections.
Polling at: 8 seats (Ra'am 4 seats) March 2020: 15 seats September 2019: 13 seats April 2019: 10 seats
Shas – Led by Aryeh Deri, an ultra-Orthodox party which primarily represents the interests of ultra-Orthodox Sephardic Jews. Since its founding 1984, Shas has always formed part of the governing coalition regardless of who the ruling party is.
Polling at: 6 seats March 2020: 9 seats September 2019: 9 seats April 2019: 8 seats
United Torah Judaism – An alliance of Degel HaTorah and Agudat Israel, two small Ashkenazi ultra-Orthodox parties. Minister Yaakov Litzman leader of the party for the past 18 years has stepped aside for these elections and allowed Moshe Gafni to lead the party. The two parties have not always agreed with each other about policy matters; however, they have cooperated in order to win the maximum number of seats since 1992.
Polling at: 7 seats March 2020: 7 seats September 2019: 8 seats April 2019: 8 seats
Labor – Having varied success in different pairings in previous elections, Labor have decided to run alone in these elections. Recent primaries placed Merav Michaeli as party leader. Labor support pragmatic foreign affairs policies, social democratic economic policies and a two-state solution.
Polling at: 6 seats March 2020: 3 seats September 2019: Labor-Gesher 6 seats April 2019: Labor 6 seats
Blue and White – Former IDF Chief of Staff Benny Gantz formed the centrist political party prior to the April 2019 elections. Joining forces with Yesh Atid, they became a credible threat to the ruling Likud party and gained many seats. They were not able to successfully negotiate a collation agreement. Following the March 2020 elections, Gantz chose to break manifesto promises and entered a coalition with Netanyahu. Yesh Atid chose to break away from Blue and White and sit in the opposition; with many voters losing faith in the party. Polling suggests Blue and White may not pass the 3.25% electoral threshold this election – a remarkable collapse from the 33 seats it held after last year's election.
Polling at: 4 seats March 2020 BWYA: 33 seats September 2019 BWYA: 33 seats April 2019 BWYA: 35 seats
Meretz – Led by Nitzan Horowitz, Meretz is a left-bloc party with policies that emphasise social justice, human rights, religious freedom and environmentalism. They have previously run on joint tickets with Labor and Gesher but have chosen to run independently this election.
Polling at: 4 seats March 2020: 4 seats September 2019 Meretz 5 seats April 2019: Meretz 4 seats
Yisrael Beitenu (Israel is our Home) – Led by former Defence Minister Avigdor Lieberman, the right-wing secular nationalist party traditionally held a base for secular, Russian-speaking Israelis. Having been branded election season's kingmaker on numerous occasions over the past 24 months, Lieberman's unwillingness to sit with the Ultra-Orthodox, the Arabs or an indicted Prime Minister has seen him being held part responsible for the multiple elections.
Polling at: 7 seats March 2020: 7 seats September 2019: 8 seats April 2019: 5 seats
Right Bloc (Jewish Home, Otzma, Noam) – A bloc of far-right nationalist parties that run together on a joint ticket. Formerly associated with Bennett's Yamina party they did once see success at the polls but since separating they've struggled to succeed. Led by Bezalel Smotrich they believe in religious Zionism with explicit support for the segregation and annexation of Palestinians and the ultimate expulsion of Palestinians from Israel and the West Bank. Many citizens believe the parties to be associated with criminals who have committed crimes in the name of nationalism.
Polling at: 6 seats March 2020: 2 seats September 2019: 7 seats April 2019: 0