Ellen Steel, Head of CFI Israel Office
Does it count as fourth elections if you had 7 months of governance in-between?
On the 23rd March, Israel will be holding its 4th general election in two years having only had an operational government for 7 months. With a global pandemic bringing the world to a standstill, Israel continues its period of political volatility. Whilst the world looks on admiring Israel's successful vaccination campaign, behind closed doors Israelis are frustrated at yet again returning to the polls. And the latest polls indicate that there is still no clear route for a majority government, although the collapse of the centrist bloc suggests Prime Minister Netanyahu may face a challenge from a new right-bloc, including some former allies.
Elections Return:
After three long and inconclusive elections, Likud Prime Minister Netanyahu and Blue and White party leader Benny Gantz came to a coalition agreement in April 2020 and Israel finally exited a period of political uncertainty with the inauguration of the 35th government. During negotiations Gantz conceded on many of his manifesto promises, prioritising the formation of a functional government to deal with the Covid-19 pandemic. The coalition agreement was elongated, arduous and held together by a shoestring. One wrong move would crumble an already unstable coalition.
Israelis from across the spectrum knew that the 'Unity Government' was unlikely to stand the test of time. As predicted, the infighting and bickering began as Covid-19 took hold with increased cases and prolonged lockdowns. Ultimately, the budget became the item on the agenda that crumbled the unity government.
Israeli legislation requires a budget to be passed within 100 days after the formation of a government; failure to pass a budget automatically triggers elections. The Knesset's official deadline for passing the budget was 24th August. As tensions rose, a state budget that satisfied all parties was considered a near impossible feat. In an unpredictable turn of events Netanyahu, Gantz and their coalition backed a bill calling for an extension, ultimately delaying the budget. Citing continued economic uncertainty due to the pandemic and in the midst of an official state of emergency, the bill was passed, and the coalition was granted a 120-day extension.
Though the averted crisis was ostensibly about the state budget, reports emerged of a deeper rift over senior law-enforcement appointments and the balance of power in a dysfunctional coalition.
As Israel entered and exited various rounds of lockdowns, the 23rd December – budget deadline day – drew ever closer with no sign of success. Netanyahu and Gantz were unable to put their differences aside and political turmoil resumed. As the clock struck midnight on December 23rd no budget was passed, and elections were triggered automatically.
Election Day:
And so Israel returns to the polls this March 23rd. The country, however, has already experienced the challenges of conducting an election during a pandemic and the election last March actually had a voter turnout of 71.47%, higher than the previous two elections.
Official plans for how the upcoming election day will be made Covid secure have not yet been released but many people suspect there will be a drive-thru non-contact system for those in isolation or not vaccinated.
Thursday 4th February was the deadline for parties to register their lists and intent to run on 23rd March. This election will see 39 parties competing to pass the electoral threshold and gain seats in the Knesset compared to 30 – March 2020, 31 – September 2019, 39 – April 2019.
Israelis will be voting for a party, not a Prime Minister, in an electoral system based on nation-wide proportional representation. This means that the number of seats which every party list receives in the Knesset is proportional to the number of people who voted for it.
The electoral threshold is currently set at 3.25%, meaning that a party needs to win at least 3.25% of all votes (translating to 4 Knesset seats) in order to secure parliamentary representation. This threshold is the reason that some smaller parties may join up with other factions, in a bid to give themselves a better chance of passing the electoral threshold.
After the votes are counted, work begins to assemble a coalition (which needs at least 61 of the 120 Members of Knesset in order to function). The leader of the coalition will then be recommended as Prime Minister.
Runners and Riders:
With Prime Minister Netanyahu being in power for more than a decade, Israel views elections as predominantly a referendum on whether his tenure should be elongated or if the time has come for new leadership.
The previous three elections have been similar in their style, results and outcomes. Israel bore witness to the revival of centrist politics with new parties being formed aiming to absorb voters from the centre-right and centre-left. Their policies were moderate and appealing, carefully balancing religion and state which is one of Israel's most controversial domestic issues. The promise of ousting hardliners within politics gained both traction and voters. Ultimately, centrist parties had excellent voter turnout and results, but forming a coalition was impossible. Being unwilling to include parties from the far right and left or Likud with Netanyahu at the helm, they failed to reach the golden 61 seats required.
Political commentators are predicting that the upcoming elections will be different to their predecessors. Most significantly, there is now a credible threat to Prime Minister Netanyahu and his ruling Likud party from within his own right bloc.
The March 2020 election and coalition negotiations saw the collapse of the centrist parties and their unity government ideology. The public witnessed Gantz's Blue and White party selling out on manifesto promises by entering a coalition with Netanyahu. His ally Yair Lapid rejected him and took his seats into the opposition. Voters felt betrayed. Gantz, who is currently Deputy Prime Minister and Defense Minister, is currently polling at 4 seats, incredibly close to the 3.25% electoral threshold. There is a credible chance he will not enter the next Knesset.
With centrists dismantled and the left-bloc failing to modernise and attract voters, polling suggests that this election will see the revival of the right-bloc and its rise to power.
Unlike previous elections, Netanyahu's main challengers for the upcoming election have emanated from his own right-bloc and are former close allies. With Israelis having suffered through a year of lockdown, sickness, death and economic crisis and with a corruption trial just beginning, it's unsurprising that Netanyahu is approaching these elections with trepidation.
Gideon Sa'ar, formerly one of Netanyahu's most loyal and vocal supporters serving as a senior minister, has broken away from Likud and created his own party – New Hope (Tikva Hadasha). Having competed with rival Netanyahu in the December 2019 Likud primaries for the top spot and failing, Sa'ar took politics into his own hands and decided to breakaway. A number of top Members of Knesset have quit Likud and joined Sa'ar's party list for the upcoming election. Traditionally Sa'ar has been labelled as more right-wing than Netanyahu, not supporting the two-state solution and promoting annexation.
New Hope's key manifesto policies are to back West Bank settlements and reform the judicial system, both causes championed by the right and the left. Vowing to not enter a coalition with Likud or the far-right bloc, Sa'ar is likely to secure a large portion of the moderate right vote. Current polling suggests New Hope will receive between 12-14 seats in the upcoming elections.
Failing to pass the electoral threshold just 24 months ago, former Defense Minister Naftali Bennett and his Yamina (right) party are shaping up to be the kingmakers in the upcoming elections. Having undergone a period of introspection and distanced from more hardline right parties, analysts are putting Bennett's recent surge in the polls down to his response to the pandemic. As interim Defense Minister during the first lockdown, Bennett became one of the most vocal and effective critics of the government's handling of the crisis. At a time where people were deeply disappointed with the government, they sought solace in Bennett's sensible, pragmatic approach.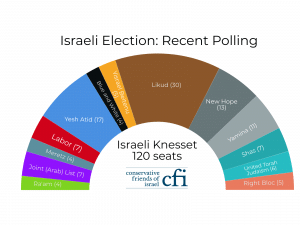 Polling:
Recent polling suggests the following outcome: 30 Likud, 17 Yesh Atid, 13 New Hope, 11 Yamina, 7 The Joint List, 7 Shas, 7 Labor, 6 UTJ, 5 Yisrael Beitenu, 5 Right-bloc, 4 Blue and White, 4 Meretz and 4 Ra'am. This would give the right-bloc 77 seats, the left-bloc 11 seats. Centrists Yesh Atid and Blue and White gain 21 seats and the Joint List and Ra'am gain 11 (7,4).
Polling consistently predicts that the right-bloc will see a surge at the upcoming elections gaining in the region of 70 seats. Regardless of this success, if the polls are close to accurate no candidate has a clear path to form a coalition of the 61 golden seats.
If handed the mandate by President Rivlin, Netanyahu will have 48 safe seats assuming his traditional partners, the ultra-Orthodox and right bloc, join his coalition. If he can tempt Bennett, this season's kingmaker, to unite with him they will be at a crucial 59 and one of the smaller centrist parties will likely join on to enter the government. Netanyahu's greatest challenge is that many party leaders will refuse to sit with an indicted Prime Minister. When Blue and White conceded on this in March 2020, the party was almost immediately dismantled by the media and their support base. It is unclear whether Bennett would be prepared to take this risk in exchange for a high-level ministerial position.
Likely to be the runner up in terms of quantity of seats, Yesh Atid's Lapid could be handed the mandate and given an opportunity to form a centrist government. Unless the polling is flawed, Lapid will be unable to get anywhere close to 61 seats without conceding and sitting with right-bloc parties which he has vowed against.
With his new kingmaker status, Bennett has the power to potentially change the future of Israeli politics. If he chooses to pledge allegiance to Sa'ar instead of Netanyahu, other right-bloc parties could follow suit and they may have a chance at receiving the mandate and forming a coalition. If successful they would have accrued 41 seats but will need to tempt centrist parties to join them. While traditionally these parties refuse to be associated with the ultra-Orthodox faction, given the opportunity to join a coalition that would topple long-reigning Netanyahu may be tempting enough to concede on their principles. This strategic move, if successful, would mean that Bennett will have secured himself a royal flush of ministerial positions.
To get to the golden 61 seat coalition a party leader needs the perfect balance of numbers, negotiations and concessions. Israeli politics is volatile and unpredictable but the fact that a tentative date has been scheduled for fifth elections is a true reflection of what most Israeli citizens believe will be the outcome of the upcoming elections.
Who are Israelis voting for?
Among the main parties running:
Likud – Headed by Benjamin Netanyahu, Likud stands for national and economic liberalism and has been the traditional home of the mainstream right-wing since the 1970s when it was founded by Menachem Begin and Ariel Sharon. Likud have merged with the Gesher party for the upcoming elections.
Polling at: 30 seats March 2020: 36 seats September 2019: 31 seats April 2019: 35 seats
Tikva Hadasha (New Hope) – Gideon Sa'ar, Likud veteran, formed a new party which will debut in these elections as the main challenger to the Likud party. New Hope's key manifesto policies are promoting West Bank settlement expansion and the reformation of the judicial system. Many key Likud names have quit their party and will be running on New Hope's party list.
Polling at: 13 seats
Yamina (Right) – Established in December 2018 by former Justice Minister Ayelet Shaked, a secular nationalist and former Education Minister Naftali Bennett, a religious nationalist. Yamina aims to be a party open to both secular and religious nationalists promoting cooperation between religious and secular, the Land of Israel belonging to the Jewish people, opposition to a State of Palestine, economic liberalism and full civil rights for all minorities. Analysis suggests Yamina will be the kingmaker in the upcoming elections.
Polling at: 11 seats March 2020: 6 seats September 2019: 7 seats April 2019: 0 seats
Yesh Atid (There's a future) – Founded by Yair Lapid in 2012, Yesh Atid is one of the few centrist political parties in Israel. In the previous three elections they joined forces with Blue and White, however following Blue and White's leader Benny Gantz entering a coalition with Likud, Lapid chose to split off and sit in the opposition. Yesh Atid will be running alone in the upcoming elections. Their main policies include improving civil life, political system reform, equality in education and army service, growth and economic efficiency and striving for peace while maintaining settlements.
Polling at: 17 seats March 2020 BWYA: 33 seats September 2019 BWYA: 33 seats April 2019 BWYA: 35 seats
The Joint (Arab) List – Three-strong Arab alliance comprising of: Ta'al (Arab Renewal), Hadash (Jewish/Arab Communist), and Balad (Arab-Palestinian nationalists). Led by Ayman Odeh the Joint List policies include striving for full national and civic rights and equality for Arab Israelis, working towards peace in the region, fighting against racism and working towards equal rights for women, workers and social justice. Ra'am (Islamist) led by Mansour Abbas has split from the Joint List and will be running independently in these elections.
Polling at: 7 seats (Ra'am 4 seats) March 2020: 15 seats September 2019: 13 seats April 2019: 10 seats
Shas – Led by Aryeh Deri, an ultra-Orthodox party which primarily represents the interests of ultra-Orthodox Sephardic Jews. Since its founding 1984, Shas has always formed part of the governing coalition regardless of who the ruling party is.
Polling at: 7 seats March 2020: 9 seats September 2019: 9 seats April 2019: 8 seats
United Torah Judaism – An alliance of Degel HaTorah and Agudat Israel, two small Ashkenazi ultra-Orthodox parties. Minister Yaakov Litzman leader of the party for the past 18 years has stepped aside for these elections and allowed Moshe Gafni to lead the party. The two parties have not always agreed with each other about policy matters; however, they have cooperated in order to win the maximum number of seats since 1992.
Polling at: 6 seats March 2020: 7 seats September 2019: 8 seats April 2019: 8 seats
Labor – Having varied success in different pairings in previous elections, Labor have decided to run alone in these elections. Recent primaries placed Merav Michaeli as party leader. Labor support pragmatic foreign affairs policies, social democratic economic policies and a two-state solution.
Polling at: 7 seats March 2020: 3 seats September 2019: Labor-Gesher 6 seats April 2019: Labor 6 seats
Blue and White – Former IDF Chief of Staff Benny Gantz formed the centrist political party prior to the April 2019 elections. Joining forces with Yesh Atid, they became a credible threat to the ruling Likud party and gained many seats. They were not able to successfully negotiate a collation agreement. Following the March 2020 elections, Gantz chose to break manifesto promises and entered a coalition with Netanyahu. Yesh Atid chose to break away from Blue and White and sit in the opposition; with many voters losing faith in the party. Polling suggests Blue and White may not pass the 3.25% electoral threshold this election.
Polling at: 4 seats March 2020 BWYA: 33 seats September 2019 BWYA: 33 seats April 2019 BWYA: 35 seats
Meretz – Led by Nitzan Horowitz, Meretz is a left-bloc party with policies that emphasise social justice, human rights, religious freedom and environmentalism. They have previously run on joint tickets with Labor and Gesher but have chosen to run independently this election.
Polling at: 4 seats March 2020: 4 seats September 2019 Meretz 5 seats April 2019: Meretz 4 seats
Yisrael Beitenu (Israel is our Home) – Led by former Defence Minister Avigdor Lieberman, the right-wing secular nationalist party traditionally held a base for secular, Russian-speaking Israelis. Having been branded election season's kingmaker on numerous occasions over the past 24 months, Lieberman's unwillingness to sit with the Ultra-Orthodox, the Arabs or an indicted Prime Minister has seen him being held part responsible for the multiple elections.
Polling at: 5 seats March 2020: 7 seats September 2019: 8 seats April 2019: 5 seats
Right Bloc (Jewish Home, Otzma, Noam) – A bloc of far-right nationalist parties that run together on a joint ticket. Formerly associated with Bennett's Yamina party they did once see success at the polls but since separating they've struggled to succeed. Led by Bezalel Smotrich they believe in religious Zionism with explicit support for the segregation and annexation of Palestinians and the ultimate expulsion of Palestinians from Israel and the West Bank. Many citizens believe the parties to be associated with criminals who have committed crimes in the name of nationalism.
Polling at: 5 seats March 2020: 2 seats September 2019: 7 seats April 2019: 0