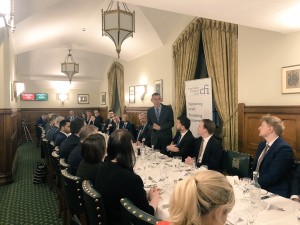 Over 40 Conservative MPs, including 35 newly elected MPs, met with Israel's Ambassador H.E. Mark Regev this week, at a lunch hosted in Parliament by CFI.
The lunch provided an opportunity for new MPs to meet the Ambassador, and discuss the latest situation in Israel and the wider region.
The discussion was chaired by CFI Parliamentary Chairman (Commons) Rt. Hon. Stephen Crabb MP and CFI Parliamentary Chairman (Lords) Rt. Hon. The Lord Pickles also addressed MPs.
Ambassador Regev thanked MPs for their support of Israel and congratulated them all on their election. He underlined: "We should always remember the values that Israel and the UK share".
Emphasising the common interests between the two nations in trade and economic cooperation, Ambassador Regev said that bilateral trade had now reached over £9 billion and that he exprected "to see UK-Israel trade continue to grow".
Ambassador Regev highlighted flourishing ties in security cooperation and tourism, stating that last year a record 250,000 Britons visited Israel.
MPs asked Ambassador Regev a range of questions, including on Israeli tech, security threats, regional peace, and how they can deepen the UK-Israel partnership.