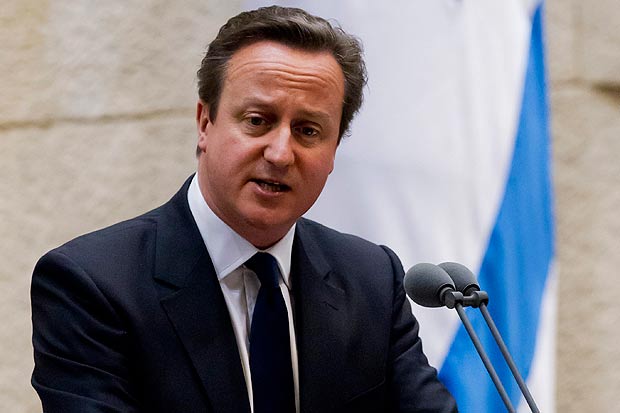 Prime Minister David Cameron has pledged never to "blow in the wind" in speaking up in support of Israel during an interview with Jewish News.
The Conservative Party leader reiterated his strong assertion that, "with me as Prime Minister you have a strong friend of Israel, someone who believes in Israel's right to defend itself and someone who won't blow in the wind when there's pressure on these things".
Mr Cameron emphasised his strong belief in Israel's right to self-defence and insisted he did "what I thought was right" in standing by the state during its operation in Gaza last summer.
Following a visit to Archer Academy in Finchley with local Conservative candidate Mike Freer, Mr Cameron said he had reacted in a way he "thought was right" during Israel's operation against Hamas last summer, despite widespread criticism from the Labour Party.
The Prime Minister was emphatical: "Frankly there isn't an equivalence. When Israel is under attack it is indiscriminate, trying to kill as many civilians as possible. When Israel is responding to that it's trying to defeat the people attacking it. Israel is a state that has a right to exist, a right to defend itself and I'll always speak up in that way and hopefully with the clarity I did then."
Mr Cameron claimed that he had been "quite shocked" by the response from some Labour MPs "who I thought were absolutely saying there is no difference" between the rocket attacks and the IDF's defensive actions.
Asked if he felt Israel's PM Benjamin Netanyahu is serious about the two-state solution, the prime minister said: "I hope he is. Obviously some of the things said in the election campaign were concerning. I happen to think it's the right answer for the world, the region, the Palestinians and for Israel. I actually think the danger is not having a two-state solution. The alternatives are worse".
Addressing the issue of settlements, Mr Cameron said they were "important" and "can be frustrating".
Turning to anti-Semitism in the UK, the Prime Minister said it was "horrific" to see British Jews being targeted for being Jewish – and said there was a need for "complete no tolerance" to attacks.
The PM also claimed that the work of the Holocaust Commission was "right up there" among the greatest achievements of the last Government.
Mr Cameron proceeded to praise the contribution the UK's Jewish community makes: "One of the remarkable things about Britain's Jewish community is the contribution it makes to public life. It's a community that believes in service in service and putting back in. So putting back in and leading the country as prime minister I can certainly see that happening".
Click here to read the full interview.