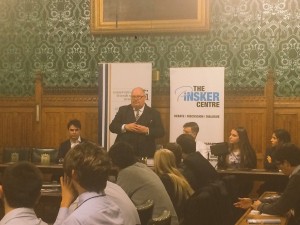 CFI's Parliamentary Chairman, Rt. Hon. Sir Eric Pickles MP, this week addressed over 80 UK students in the House of Commons, at a joint event between CFI and the Pinsker Centre – the first of its kind.
Sir Eric spoke on a range of issues involving Israel and took a host of questions from the audience, including on the UK-Israel relationship, Holocaust education, and anti-Semitism.
Praising Israel's democracy, he said that "in a turbulent area we have a country where the rule of law exists, democracy exists".
Speaking about the Palestinian Authority's glorification of violence against Israelis during a year of stabbing, car-ramming and shooting attacks in Israel and the West Bank, Sir Eric said that the PA "need to show leadership and condemn violence".
He underlined that Prime Minister Theresa May's record as Home Secretary demonstrated what a great friend to the Jewish community she is, and said that she had a zero-tolerance policy towards anti-Semitism. Sir Eric said that Prime Minister May saw Jewish identity as a fundamental part of British identity, quoting her statement that: "Without Jews, Britain would not be Britain".
Sir Eric asserted that intimidation and harassment of students attending events with Israeli speakers on university campuses, such as the incidents at UCL and KCL, "should not be tolerated".
The Pinsker Centre is a coalition of young people from all backgrounds educating about Zionism and the Israeli-Palestinian conflict.