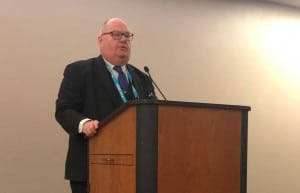 Rt. Hon. Sir Eric Pickles, hailed the UK-USA-Israel trilateral relationship in an address to the American Israel Public Affairs Committee's (AIPAC) annual policy conference in Washington DC last week.
Addressing the International Reception at AIPAC, Sir Eric praised Israel as a "beacon of democracy in a troubled region" and condemned "rivers of antisemitism" in the Middle East and Europe.
The UK's Special Envoy for Post-Holocaust issues asserted: "Antisemitism is not a Jewish problem, it is a world problem. We have to take leadership to confront antisemitism wherever it is and ensure the world is safe from that greatest of evils".
At the reception, Former Prime Minister of Canada, Stephen Harper, praised Sir Eric for his instrumental role drafting the International Holocaust Remembrance Alliance's (IHRA) modern definition of antisemitism, and the subsequent UK adoption of it.
At a panel event alongside the Jewish Leadership Council's Simon Johnson and UK Lawyers for Israel's Natasha Hausdorff, Sir Eric celebrated record levels of UK-Israel trade and called for the UK to sign the first post-Brexit free trade deal with Israel.