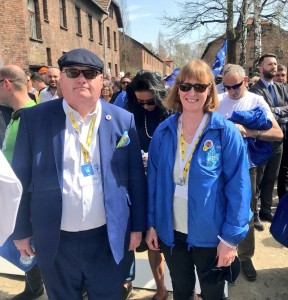 The UK's Special Envoy on Post Holocaust Issues and former CFI Parliamentary Chairman, Rt. Hon. Sir Eric Pickles, attended March of the Living in Poland this week, where 12,000 participants marched together from Auschwitz to Birkenau in memory of the victims of the Holocaust.
Thousands of participants walked together with Holocaust survivors along the two mile railway track between Auschwitz and Birkenau, where 1.1 million Jews were murdered.
The historic march was held a week before Israel's 70th Independence Day and was led by Israel's President Reuven Rivlin, accompanied by the heads of Israel's security forces.
Sir Eric was also joined by Chair of Labour Friends of Israel Joan Ryan MP, and Chief Executive of the Holocaust Educational Trust Karen Pollock.