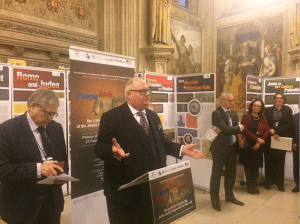 CFI Parliamentary Chairman, Rt. Hon. Sir Eric Pickles MP unveiled the Simon Wiesenthal Center's exhibition on Jewish history in the Houses of Parliament this week.
The exhibition, "People, Book, Land; The 3,500 Year Relationship of the Jewish People with the Holy Land" was sponsored by the United Nations Educational, Scientific and Cultural Organization (UNESCO) and shown at its headquarters in 2014. It has also been displayed at the Vatican, Capitol Hill in Washington, Paris, and Chicago.
The 24 sections of the exhibition showcase the Jewish narrative from the biblical prophets and early Jewish history to the Holocaust and establishment of the State of Israel.
Addressing MPs, peers and supporters, Sir Eric Pickles said: "In a turbulent sea, Israel is a bastion of democracy, a bastion of free speech".
New Deputy Israeli Ambassador, Sharon Bar-li, was welcomed for the first time in the Houses of Parliament at the exhibition, she said: "It is an honour to be speaking in heart of British democracy. One unquestionable truth, the land of Israel remains the epicentre of Jewish life. The same land in which our forebears Abraham Isaac and Jacob walked. Israel was reborn 68 years ago and is now a beacon of democracy, tolerance, pluralism".
Among those in attendance were Andrea Jenkyns MP, Jack Lopresti MP, Jonathan Djanogly MP, Philip Hollobone MP, Rabbi Lord Sacks, Lord Shinkwin, Lord Gold, Lord Stone, Baroness Deech, and the Canadian Deputy High Commissioner Alan Kessel.
A statement supporting the exhibition launch was read on behalf of the Director General of UNESCO.
CFI Honorary President, Lord Polak CBE, also welcomed the opening of the Simon Wiesenthal exhibition, condemning the previous UNESCO votes denying Jewish links to Temple Mount.
Dr Shimon Samuels, Director for International Relations at the Simon Wiesenthal Centre presented Sir Eric Pickles and Lord Carey, previous Archbishop of Canterbury, with special gifts as a token of appreciation for their support for the exhibition.