Note to reader: This briefing relates to yesterday's events. We wanted to give you a trigger warning on what you may read below. We have chosen, as with every night of these briefings, to not share horrific images, however we want to alert you as sensitively as we can to the reports coming out of Israel.
What you need to know today
Suicide drone hits school in Eilat with 37 students aged 5-7 present
Weapon production facility discovered next to a child's bedroom in Gaza
Israeli tanks entered central Gaza City for first time
Clashes in West Bank as well as on northern border
Foreign Secretary James Cleverly: "We want to see as quickly as possible, a move to a situation where there is peace in the region, where Israel feels safe and secure"
"We want to see as quickly as possible, a move to a situation where there is peace in the region, where Israel feels safe and secure", Foreign Secretary James Cleverly said as he prepared to meet Arab Foreign Ministers in Riyadh, Saudi Arabia ahead of the Emergency Arab League Summit for Gaza.
"Calling for a ceasefire is understandable, but what we also recognise is that Israel is taking action to secure its own stability and its own security", he added.
The Foreign Secretary underscored that "the terrible circumstances that we are seeing, triggered by the brutal terrorist attacks on the seventh of October, remind us that we need to redouble our efforts to bring about that peaceful two state solution".
The Foreign Secretary said that he has "been focused on diplomatic efforts to secure the release of hostages, to ensure that foreign nationals can leave Gaza, to deter any escalation regionally and to facilitate the flow of humanitarian aid at scale".
"I will continue this essential work in Saudi Arabia where I will meet with a number of my counterparts in the region to explore how we achieve those aims quickly and also look to the future of a lasting, peaceful, and prosperous two-state solution for both Israelis and Palestinians", he added.
Andrew Percy MP's account of his visit to Israel
CFI Parliamentary Vice-Chair Andrew Percy MP, shared an account of his two-day trip to Israel this week, on a visit with ELNET.
He expressed that it "is hard to describe what I saw, heard, watched and worst of all smelt whilst in the country. I am still processing these experiences and they will live with me forever".
"Hamas spared nobody and no brutality in their attack", Percy stated.
"There is no comparison between the two sides. Every Hamas action is aimed at civilians and murdering as many civilians as possible. Israel's actions are aimed at military targets".
"When the enemy embeds itself in the civilian population, the battle is difficult and casualties will occur. Israel calls people, drops leaflets and gives notice of action ahead of time. Something we didn't really do in World War 2 or on the same scale in Iraq, Afghanistan or Syria when we were fighting ISIS", he added.
"Every death in Gaza is the responsibility of Hamas who have made clear they intend to go on murdering Israelis until they have wiped out all Jews. Then it will be us".
On Hamas' treatment of Palestinian civilians, Percy stated that "Hamas have dug up the water pipes the EU laid to use as rockets, they've built hundreds of miles of terror tunnels (not shelters for their people) and they have embedded themselves in the civilian population centres, used ambulances to transport terrorist leaders around, built their HQs under hospitals and used schools and civilian buildings to store weapons, build attack drones and launch thousands of rockets at Israel. Worst of all, they've used their own people as human shields".
"There can be no peace for Palestinians so long as Hamas live to fight another day", he declared.
Percy described the horrors he witnessed and discussed the victims he met. His detailed account is important to share but we are also issuing an additional trigger warning.
"Many think October 7th was where this ended for Israelis. Thousands of rockets continue to come over from Gaza, as we saw for ourselves as we were caught in two of these attacks. The horror of the hostage situation continues, and attacks continue from Iran's terrorist friends in the North of Israel too".
Statement on Israel/Gaza in the House of Lords
Middle East Minister Lord Ahmad told the House of Lords that "Hamas is not the future for the Gaza Strip. It is not the future for the Palestinian people. It is not a partner for peace. We need to stress that at each and every step".
In a repeat of the House of Commons debate, Lord Ahmad said that "we need to ensure that terrorist organisations such as Hamas are not in governance positions".
CFI Parliamentary Chair in the House of Lords, Lord Pickles said that he "saw the full, unexpurgated photographs of the murder of children". "I will never lose from my mind the sight of those burned corpses", he professed.
"We should not forget that Hamas has consistently oppressed the people of Gaza. Prior to the 7 October assaults, it destroyed water pipelines and electricity. That is one reason why children are drinking dirty water now. It is stockpiling 760,000 litres of fuel. That is one reason why hospitals are running short of power. Earlier this week, it attempted to smuggle a non-medical oxygen compressor during the aid convoy".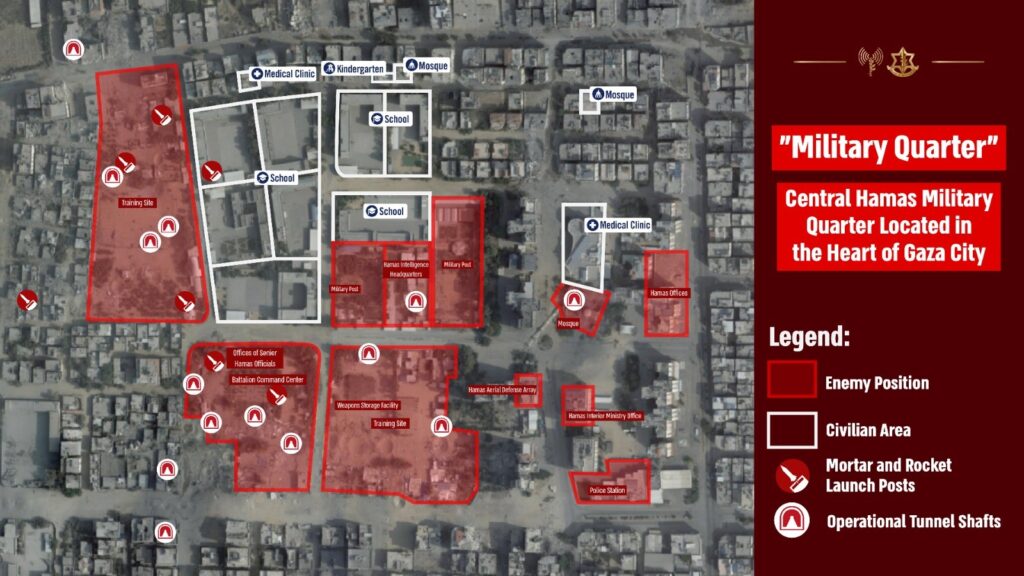 Today, Palestinian Islamic Jihad (PIJ) published a video in which two abductees read a dictated text blaming their abduction on Israeli Prime Minister Benjamin Netanyahu. The 240 hostages are mostly being held by Hamas, although a percentage by PIJ and other terror organisations.
In response to rumours of a humanitarian pause in exchange for the release of 12-15 hostages, families of the hostages said that "we will welcome the return of every hostage who is in Gaza. However, the Hostages and Missing Families Forum adheres to its position that any movement towards a ceasefire has to include the release of all of the hostages from Gaza".
Prime Minister Netanyahu said: "I'd like to put to rest all kinds of false rumors we're hearing from all kinds of directions, and reiterate one clear thing: there will be no ceasefire without the release of our hostages".
Rockets continue to be fired towards Israel from Gaza. Rockets were fired today towards Ashdod and surrounding areas in the south of Israel.
35 soldiers have been killed in Gaza since the beginning of Israel's ground incursion and 352 since 7th October.
Israel's northern border
Heavy gunfire was reported overnight across the Israel-Lebanon border fence. The IDF also struck a terrorist cell approaching the border near Rosh Hanikra.
Shooting continued this afternoon including at an IDF Post in Metula. Hezbollah operatives also opened fire at an IDF drone over the Mount Dov area in Israel.
IDF forces attacked two anti-tank squads in the Birnit area and the Yiftach area, Lebanon, this afternoon, after multiple anti-tank missile attacks including at Mitzpe Adi and Adamit.
A number of mortar bomb launches were detected from Lebanese territory towards Israeli territory this afternoon. In response, the IDF attacked the launcher from which the shooting was carried out.
Roads in the north were closed today due to increased hostilities including Malkiya, Ramot Naftali, Metzudat Junction, and Margoliat.
In response to missile and rocket attacks today, the IDF targeted Hezbollah sites and observation posts in southern Lebanon.
Houthis
An unmanned aerial vehicle (UAV) fired by the Iranian-backed Houthi's in Yemen, hit a school in Eilat this afternoon. At the time of the explosion, 37 students aged five-seven were in the building. Seven were treated for anxiety and one for smoke inhalation after the attack.
Following the attack, the Mayor of Eilat cancelled all activity in the area including at the youth complex on the promenade and the use of sports facilities on the beach.
This evening, a ballistic missile fired from the Houthi's was intercepted by Israel's Arrow air defence system. The Arrow 3 was used to intercept the missile for the first time, with previous interceptions carried out by the Arrow 2.
Two more interceptions by the Arrow-3 air defence system followed shortly after.
A Houthi's spokesperson said: "We fired a barrage of ballistic missiles at various sensitive targets in Israel, including military targets in Eilat".
West Bank
An Israeli couple were injured in a shooting attack yesterday evening near Gitit, West Bank. The couple were driving with their five-month-old baby when the vehicle was struck. The baby was unharmed.
Armed clashes were reported today between IDF forces and terrorists in Jenin. At least 11 terrorists were killed. The IDF also attacked an underground vault with explosives ready for use.
It was also reported this afternoon that the IDF was operating in Nablus.
Operation Swords of Iron
The IDF for the fifth day in a row, opened a humanitarian corridor to allow thousands of Gazans to evacuate from the north of the Gaza Strip to the South.
Egyptian Foreign Minister, Sameh Shoukry, said that "opening a safe passage for residents of the Gaza Strip through the Rafah crossing is displacement of the Palestinians".
IDF Spokesperson Rear Adm Daniel Hagari said that "Hamas has lost control in the north [of the Gaza Strip]. The Hamas leadership is cut off. They are sitting in bunkers, cut off. Cut off from the public, cut off from their terrorists who are fighting on the ground against our forces".
This morning, it was announced that IDF fighters of the Nahal Brigade took over Outpost 17, a Hamas military stronghold in western Jabaliya, northern Gaza. The takeover was completed in ten hours during which weaponry was seized, and terror tunnel shafts uncovered including one located close to a kindergarten.
A weapons production facility was also discovered today in the heart of the Sheikh Radwan residential neighbourhood, located close to a school, and next to a child's bedroom.
Approximately 2,000 Hamas terrorists have been killed by the IDF since Israel's ground incursion 11 days ago.
Today, the IDF revealed that they had killed Ibrahim Abu-Maghsib, Head of Hamas' Anti-Tank Missile Unit in the Central Camps Brigade.
This evening, Israeli tanks reportedly entered central Gaza City near the seaport, along al Nasr Street for the first time.
Israel's Defence Minister Yoav Gallant confirmed in a statement that "our soldiers are located in the heart of Gaza City. They are on the outskirts of Shati, they are near the Shifa hospital, they are very close to the Gaza port".
The IDF's entire 252nd Division is fighting in Gaza, marking the first time since the First Lebanon War (1982) that an entire IDF reserve division is operational in enemy territory.
During this difficult time please consider donating to Magen David Adom's urgent appeal https://mdauk.org/
Please also email your MP to share your support with Israel. You can do this via We Believe in Israel: https://tinyurl.com/mr2rcbej