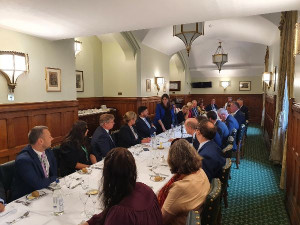 This week, over 30 Conservative MPs and Lords attended a CFI lunch in Parliament to welcome the new Deputy Ambassador of Israel to the UK, Oren Marmorstein, and meet Israeli Ambassador H.E. Tzipi Hotovely.
The discussion was chaired by CFI Honorary President Lord Polak CBE, with a vote of thanks from CFI Parliamentary Chairman (Commons) Rt. Hon. Stephen Crabb MP.
Ambassador Hotovely and Deputy Ambassador Marmorstein thanked the Parliamentarians for their support for Israel and praised the UK-Israel partnership and friendship.
Among MPs in attendance was then-Trade Minister Rt. Hon. Greg Hands MP, who confirmed that UK-Israel trade is in "a fantastic place". He added that the UK was looking to go "considerably further" in expanding trade with Israel, particularly in sectors such as digital, health and technology. Mr Hands has since been appointed Energy Minister.
Former Defence Secretary and International Trade Secretary Rt. Hon. Dr Liam Fox MP also spoke at the event, reflecting on his appointment as Chair of the UK Abraham Accords Group by the Ambassadors to the UK from Israel, the UAE and Bahrain.
Dr Fox underlined the regional threat posed by Iran, emphasising that the election of hardline President Ebrahim Raisi has caused the Iranian regime to "become even more toxic than it was before".