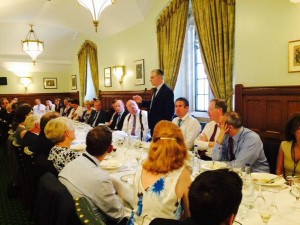 35 Conservative MPs, 17 of which were part of the new 2015 intake, attended a CFI lunch briefing event in Parliament with outgoing Ambassador of Israel, H.E. Daniel Taub.
Among MPs to attend were CFI Parliamentary Chairman, Rt. Hon. Sir Eric Pickles MP, who chaired the event, former Defence Secretary, Rt. Hon. Liam Fox MP, Deputy Chairman of the Conservative Party, Rt. Hon. Robert Halfon MP, and former Deputy Mayor of London, Lady Victoria Borwick MP.
Ambassador Taub spoke at length about Iran and the P5+1 nuclear talks, the terror threats facing Israel, and the double standards of the United Nations towards Israel.
The Ambassador thanked MPs and the British Government for its support of Israel against terror, and urged for the continuing of strong bilateral ties between the two countries.
He particularly hailed the flourishing trade links in innovation and technology between the UK and Israel, which continue to break records.
MPs asked the Ambassador a number of questions on recent developments in the Middle East, including on Tunisia, Turkey, Jordan, Saudi Arabia and Lebanon.