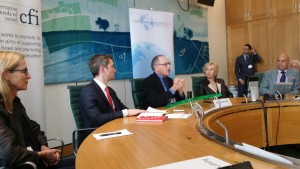 CFI, Henry Jackson Society and the Gatestone Institute this week hosted a joint event in Parliament, where writer and commentator Douglas Murray appeared 'In Conversation' with renowned criminal lawyer and author Professor Alan Dershowitz.
Mr Murray and Professor Dershowitz discussed a range of issues, including his new book on American politics and the upcoming US election, the emergence of populism globally, threats to global security, and double standards applied towards Israel.
He underlined: "Terrorism doesn't respect international boundaries, a problem that needs to be dealt with together".
Professor Derschowitz later addressed a group of key supporters at a lunch in Parliament, where he spoke on similar issues, and took questions from attendees.
Alan Dershowitz, is a world renowned criminal lawyer, and defender of civil liberties. He is equally known for his political commentary on a variety of issues. The most frequent themes in Dershowitz's commentary are defences of liberalism and Zionism.
His 2003 book The Case for Israel debunks several longstanding myths about the conflict and was a New York Times bestseller. Following the death of Yasser Arafat, Dershowitz published a sequel, The Case for Peace, in which he advocated a two-state solution on broadly similar terms to those discussed at Camp David in 2000.