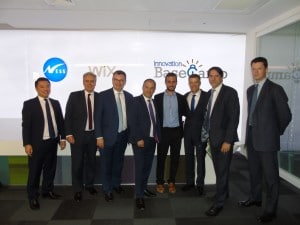 Writing in the Times of Israel this week, Alan Mak MP urged the importance of deepening science and technology cooperation between the UK and Israel.
The MP for Havant, who participated in CFI's trade-focused delegation to Israel in May 2018, explained that Israel "is recognised around the world as a 'Start-Up Nation' when it comes to tech companies – with more start-ups per capita than anywhere outside Silicon Valley, an established entrepreneurial culture, and hundreds of multinationals looking to invest in Israeli innovation".
He said that it is clear that "the greatest success in a future economy increasingly driven by new technologies will be achieved by Britain and Israel working closely together".
Mr Mak, who is the founder and Chair of the APPG on the Fourth Industrial Revolution, stressed: "A stronger partnership between our two countries will bolster our reputation as world-leading centres of free trade, free enterprise, and groundbreaking scientific research".
He added: "It will send a clear message to entrepreneurs and investors around the world that Britain and Israel are the best places to start and grow innovative businesses. Most of all, working together will help us tackle the challenges and seize the opportunities of the Fourth Industrial Revolution".
Click here to read the article in full.