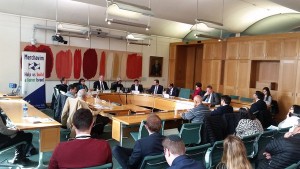 The first ever event between CFI and Conservative Muslim Forum (CMF) took place on Monday this week, presenting the work of Israeli NGO Merchavim to Conservative MPs, as well as supporters of CFI and CMF. The special briefing was chaired by CFI Officer Bob Blackman MP.
A number of Conservative MPs were in attendance, including CFI's Vice-Chairman, John Howell OBE MP, CFI Officers Chloe Smith MP and Matthew Offord MP, and Chris Green MP.
Merchavim is an Israeli non-profit organisation, established in 1998, which educates young Israelis of all backgrounds to build a shared future by learning about their fellow citizens, appreciating the diversity of Israeli society and working together to make their classrooms, schools and communities fairer.
British Friends of Merchavim Chair Errol Rudnick introduced the speakers Abeer Halabi, Ruth Madar, and Roi Maor who spoke about life in Israel and Merchavim's work from their own perspectives, belonging to the Druze Arab, Orthodox Jewish, and secular Jewish groups respectively.
The speakers underlined that the central part of their work is making the population more aware of the diversity in Israel, and explained the projects that Merchavim was doing to make a difference in community relations.
The audience were told about one of the NGO's key programmes to work with the Ministry of Education through a joint initiative to integrate 500 unemployed Arab teachers in Jewish schools. Over the past decade, the NGO has trained 3,000 educators.
The speakers said that each year 15,000 students are taught by teachers in the programme, which enables meaningful encounters between Arab and Jewish citizens. It was stated that the programme has been endorsed by three successive Israeli Ministers of Education, and that Merchavim's work had been recognised by the President of Israel.
Abeer Halabi explained being in partnership with the government, allowed Merchavim to amplify voices that would not be necessarily be heard in that arena.
Following the briefing of Merchavim's work an extended question and answer session took place, chaired by Bob Blackman MP.