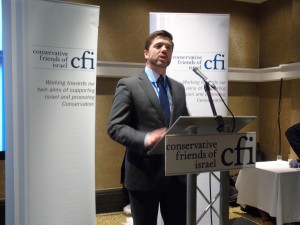 Today, CFI announced that former Cabinet minister Rt. Hon. Stephen Crabb MP will be our new Parliamentary Chairman in the House of Commons.
Stephen has always been a strong supporter of Israel and CFI, having first travelled to Israel with CFI in 2006. He most recently visited Israel with CFI in February 2017.
CFI has also confirmed its new Vice-Chairmen and Officers.
This leading group of parliamentarians, who come from all corners of Britain, will include:
Rt. Hon. Theresa Villiers MP (Vice Chairman) – Chipping Barnet
John Howell OBE MP (Vice-Chairman) – Henley
Andrew Percy MP (Vice-Chairman) – Brigg & Goole
Lucy Allan MP – Telford
Rt. Hon. Baroness Altmann CBE of Tottenham
Bob Blackman MP – Harrow East
Maria Caulfield MP – Lewes
Chris Davies MP – Brecon and Radnorshire
Oliver Dowden CBE MP – Hertsmere
Paul Masterton MP – East Renfrewshire
Matthew Offord MP – Hendon
Will Quince MP – Colchester
Mary Robinson MP – Cheadle
Paul Scully MP – Sutton & Cheam
Craig Tracey MP – North Warwickshire
Rt. Hon. Lord Trimble of Lisnagarvey
Rt. Hon. Stephen Crabb MP said: "I'm excited and honoured to become CFI's new Parliamentary Chairman in the House of Commons, particularly in this special Balfour centenary year. The UK-Israel relationship is stronger than ever, and CFI plays an important role in this. I am very much looking forward to building on the great work of my predecessors and strengthening the UK-Israeli bilateral relationship".
CFI Honorary President Lord Polak CBE and CFI Executive Director James Gurd said: "The CFI Directors and Professional Team are delighted to have such a popular and respected figure to serve as CFI's Parliamentary Chairman in the House of Commons. Stephen has been a long-standing friend of Israel, as evidenced by his memorable Yom Ha'atzmaut speech at Finchley Synagogue last year. With a strong new team of Vice-Chairmen and Officers who represent all corners of the United Kingdom, CFI is well-positioned to further strengthen the UK-Israel relationship during this Parliament".