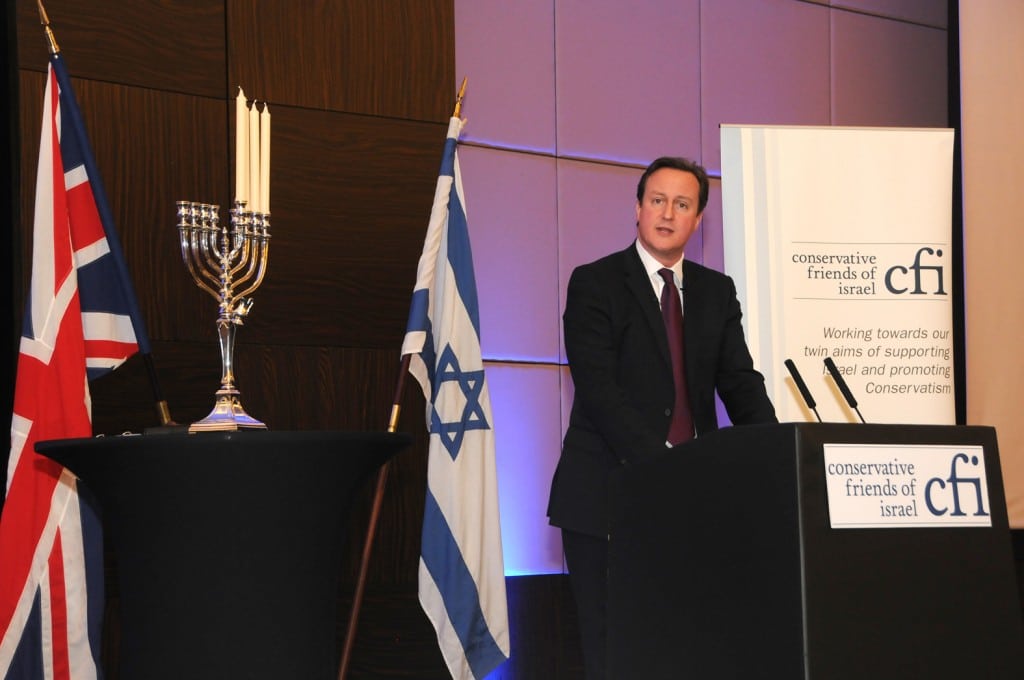 CFI's Annual Business Lunch 2012 took place at the Park Plaza Westminster Bridge Hotel on 11th December.
The event was attended by 550 Business people and 140 Conservative Parliamentarians, including 6 members of the Cabinet.
Keynote speaker at this year's lunch was, the Rt Hon David Cameron, the Prime Minister.
Extracts from Rt. Hon. David Cameron, the Prime Minister's speech:
On CFI:
"It is a fantastic job that Stuart [Polak] and the CFI team do in getting people out to Israel – because seeing really is believing. It's only when you visit the Lebanese border as I have done, when you look through binoculars and see the Hezbollah flags just hundreds of yards away, that you can really understand the fear that so many Israelis live with day-in, day-out. It is vital, important work CFI does in getting people out there on the ground in Israel – and I want to thank you for that".
On Israel:
"We promised to stand up for Israel and in Government that's exactly what we've done. We said it was ridiculous that Israeli officials felt unable to visit Britain because of the malicious and unfounded use of arrest warrants so we changed the law to end it. We said we wouldn't allow preachers of hate into our country – and al Qaradawi had the door to Britain slammed in his face. And while we're on al Qaradawi, let's remember: we helped keep in the Mayor who talks up the Jewish community rather than talking it down and helped keep out the Mayor of London who cosied up to poisonous ideologues. We said we'd resist calls for boycotts on Israel and yes – we are going to keep on working with Israel, doing business with Israel, trading with Israel".
On Israel's Achievements:
"We hear all this talk about the BRIC countries versus the rest of us, but Israel is growing faster than Russia – and almost twice as fast as Brazil. It's got more start-up businesses per head than any other country…These are people who have innovated around every problem that life has thrown at them. The land is dry – so they come up with new water technology. There's little oil – so they find other energy alternatives. So we want to work much more closely with Israel – on innovation, on technology".
On the Peace Process:
"Of course it is in the interests of Palestinians to have a state of their own – but it is in Israel's vital interests too. It is the only way to secure long term peace and security. And frankly; time is running out. If we don't seize the opportunity for peace, the two-state solution may become impossible, and that I believe would be a disaster not just for the Palestinians, but for Israelis too".