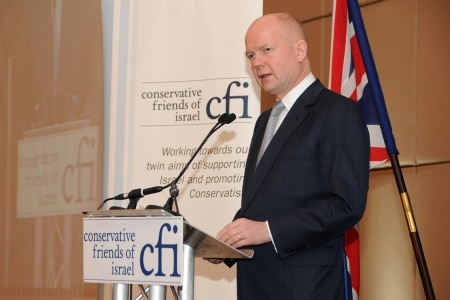 CFI's Annual Business Lunch 2013 was attended by over 400 Business people and 120 Conservative Parliamentarians.
CFI were delighted to be joined by H.E Daniel Taub, Ambassador of Israel, alongside keynote speaker the Rt Hon William Hague, the Foreign Secretary.
In a timely speech, the Foreign Secretary spoke of the 'strong links and intensified cooperation' between Britain and Israel. He re-iterated that the British Government would have 'no truck' with those who seek to delegitimise Israel. And he urged Israel and the Palestinians to continue making the difficult compromises for peace.
On Iran, the Foreign Secretary spoke of the interim Joint Plan of Action (JPA) agreement as being an 'essential first step without which we would never attain a comprehensive agreement' but underlined that the limited sanctions relief agreed is 'fully reversible' and if Iran reneges on this deal it will bear a 'heavy responsibility'.
The Foreign Secretary spoke of his personal memories of joining CFI: "As many of you know, CFI was the first political organisation that I joined as a teenager; in 1976, 37 years ago. I have been supported and sustained by friendships within CFI, or overlapping with CFI, throughout my career in public life."
Extracts from Rt Hon William Hague, the Foreign Secretary's speech:
On bilateral relationship with Israel:
"I am proud of the stronger links and intensified cooperation that we have built with Israel since this coalition government came to power. Britain's bilateral relationship with is Israel stronger, warmer and more full of promise than ever."
"We are deepening our cultural exchange, strengthening relations between our legal systems, and promoting links between our universities: this government has no truck with those who seek to delegitimise or boycott Israel."
"And in promoting the security of both our countries we are becoming closer partners, working together to combat the proliferation, money-laundering and the financing of terrorism and worldwide. This is a record of working with Israel that stands comparison with any government in modern British history that the Conservative Friends of Israel should all be proud of."
On the Peace Process:
"We want to see Israeli citizens freed from the fear of rockets and suicide attacks and able to live at peace with Palestinians, with both peoples enjoying prosperity and security to the full."
"We want to see an Israel that has good relations with all its neighbours, that is not constantly threatened by unjust boycotts or having to defend itself in international organisations; and that is not and never can be threatened by nuclear weapons: an Israel with its existence unquestioned and its future secured."
"Prime Minister Netanyahu and President Abbas took a brave step when they agreed to resume negotiations in July this year…We know just how difficult the path is to a final and lasting agreement. We've seen Prime Minister Netanyahu take the agonising decision to release prisoners, and can only imagine how painful that must have been for many Israeli families."
"We are not naïve, we see and understand the many challenges that the citizens of Israel face. But I am convinced that it is these dangers that mean there is no time to be lost, and that it is overwhelmingly in Israel's interests to reach a lasting agreement now if possible, based on this country's longstanding policy of 1967 borders with agreed land swaps, Jerusalem as the shared capital, and a just and agreed settlement for refugees. The price of peace may seem high, but the long-term dangers of failing to reach peace are greater still."
On both sides making compromises:
"For the truth is that that two-state solution is not available forever. The closing of that possibility would be a disaster for Israelis and Palestinians. That is why we and most countries take a strong position against the expansion of settlements that in our view threaten to make a two-state solution impossible. But peace is not a one-way street, so we are also clear to the Palestinians that there is no alternative to negotiations, that we oppose unilateral measures, and that they too will have to make difficult compromises."
On the Iran deal:
"I am convinced that this is an agreement that is good for the world, including the countries of the Middle East, and that it is an essential first step without which we would never attain a comprehensive agreement that removes the threat of Iranian nuclear proliferation once and for all."
"I know that Israeli leaders have serious concerns. I understand why they are worried about the very idea of an interim deal. They would have preferred a final deal, that met all of our concerns at once. But in order to arrive at a comprehensive agreement, an interim agreement that imposes immediate restraints on Iran's programme is an essential requirement."
"So this is an agreement that goes a long way as a first step to address the most worrying aspects of the Iranian nuclear programme. It will curb that programme for the first time in nearly a decade. It means that over the next six months Iran's nuclear programme will not be able to move forward, and in some areas it will be rolled back. It pushes Iran further away from being able to acquire a nuclear weapons capability. And it is therefore a significant step towards enhancing the security of the whole Middle East."
"But it is only that – a first step. There is a huge amount of work to be done before we reach a final, comprehensive settlement that gives the world full confidence that Iran's nuclear programme is for purely peaceful purposes. The limited sanctions relief we have agreed is fully reversible. If Iran reneges on this deal it will bear a heavy responsibility, but if we did not take the opportunity to attempt such an agreement then that heavy responsibility would rest with us. The readiness of Iran to reach a peaceful settlement on its nuclear programme must be tested."