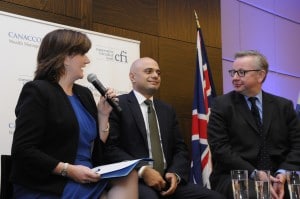 CFI hosted its Annual Business Lunch this week, which was attended by 750 people, including 160 Conservative Parliamentarians and 13 members of the Cabinet.
CFI were delighted to be joined by keynote speakers the Secretary of State for Justice, Rt. Hon. Michael Gove MP, and the Secretary of State for Business, Innovation and Skills, Rt. Hon. Sajid Javid MP, who appeared 'In Conversation' with the Secretary of State for Education, Rt. Hon. Nicky Morgan MP. In their remarks, the Cabinet Ministers demonstrated staunch support of Israel against de-legitimisation attempts, condemned Palestinian incitement, and pledged to maintain strong bilateral ties between the two countries.
Conservative Mayoral Candidate for London, Zac Goldsmith MP, and former Ambassador for Israel to the UN and the UK, H.E. Ron Prosor, also gave speeches at the event, as well as CFI's Parliamentary Chairman, Rt. Hon. Sir Eric Pickles MP,
Cabinet Members to attend included Leader of the House of Commons, Rt. Hon. Chris Grayling MP, Secretary of State for Wales, Rt. Hon. Stephen Crabb MP, and Northern Ireland Secretary, Rt. Hon. Theresa Villiers MP.
During the event, a video showing the work that CFI does in taking delegations of Parliamentarians to Israel, was aired. The video features four Conservative MPs from the September delegation to Israel reflecting on their experiences in the country. Click the link below to watch the video now.
See below for an outline of the event, and key extracts from the speeches.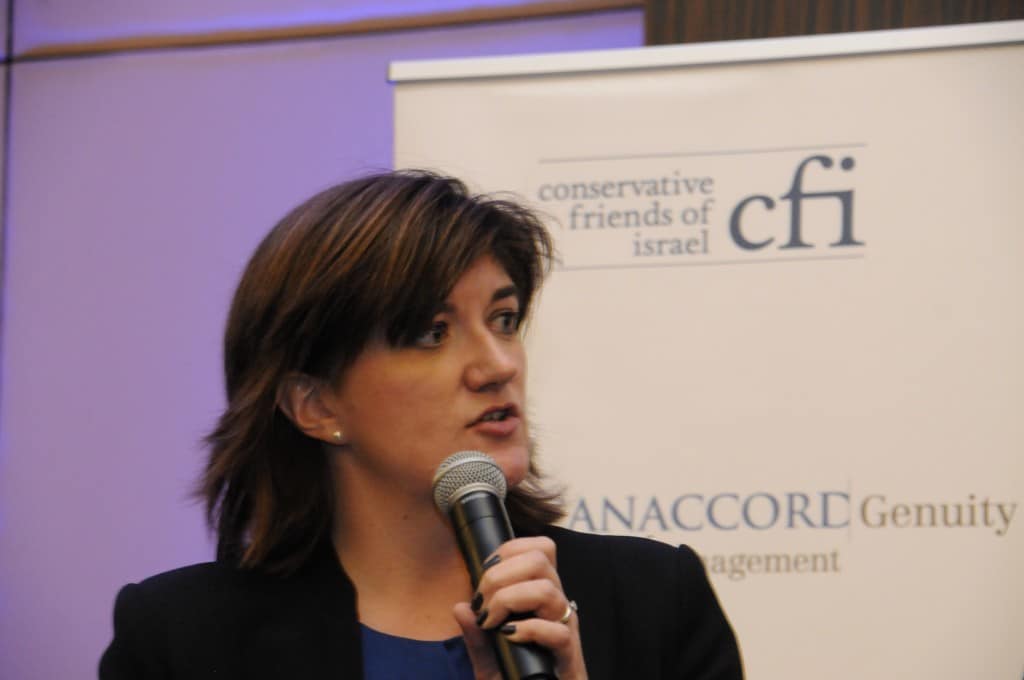 Opening the 'In Conversation' section, the Secretaries of State reflected on their visits to Israel on delegations with CFI. Business Secretary Rt. Hon. Sajid Javid MP said: "It was really important to go [to Israel] with CFI because I felt you got to see the things that you wouldn't otherwise. Two things really stuck in mind – one was the visit to what has become known unfortunately as the 'rocket town' – Sderot, where you're on the frontline with the Gaza Strip. You meet young people who have been brought up everyday with the threat of rocket attacks, and a whole generation of people being brought up in that way. That is quite astounding to see and you really realise the sense of heightened security that there is and why indeed it's required".
The Business Secretary mentioned that the second most memorable part of the trip with CFI was his visit to Yad Vashem Holocaust Memorial in Jerusalem: "It will change every single person once they've been there".
Secretary of State for Justice, Rt. Hon. Michael Gove agreed with Mr Javid, stating that Yad Vashem is "one of the most moving, powerful places in the world, and the story of the Holocaust and the experience of the Jewish individuals in Europe is compelling".
Speaking about his visit to the North of Israel, Mr Gove said: "I was able at the Golan Heights to see the scenes of the tank battles in 1973. I was able to look down to the town of Quneitra in Syria, a town that is currently the source of conflict between the Assad regime, moderate rebels, and those who support Islamists. And it is a very powerful reminder that I was enjoying, in shorts, a wonderful spring day, but just yards away was a country racked by civil war, where terrorists have found a safe haven".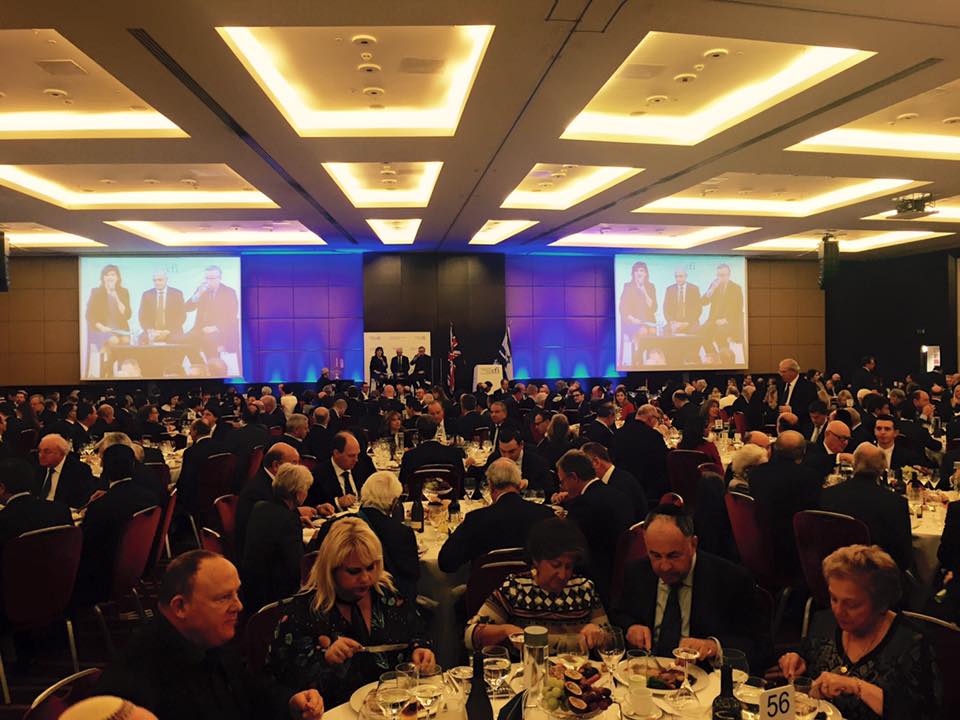 In the next question to her fellow Secretaries of State, the Education Secretary highlighted the disparity in positions on Israel between Labour and the Conservatives: "I think it is important to draw a contrast between this party, which has a proud relationship with Israel and the Leader of the Opposition". She asked Mr Gove: "Why do you think tolerance and understanding of Israel is such a challenge for Jeremy Corbyn, and why did he find it so difficult to mention the word 'Israel' when he spoke to Labour Friends of Israel at their Party Conference?"
The Justice Secretary noted that in the last 15 years, "for people on the Left, antipathy towards Israel has become almost a badge of honour… The current in the Labour Party has moved towards supporting a terrible Boycotts, Disinvestment and Sanctions campaign, which likens a democracy like Israel to the apartheid in South Africa, which to my mind is offensive on every level".
He continued: "One of problems that we have is that the antipathy that people like Corbyn have towards Israel is part of a broader antipathy they have towards the West. So if you look at the organisation that Jeremy Corbyn will be gracing his presence at on Friday evening – Stop the War Coalition – this is an organisation that has been hostile to the West whenever we've fought against terrorism, hostile to Israel when it's under attack, hostile to any attempt to stand up for democracy when it's threatened".
Mr Gove asserted: "I think it's a bad thing in our politics that support for Israel, which used to be an area of bipartisan strength in the House of Commons, has become unbalanced".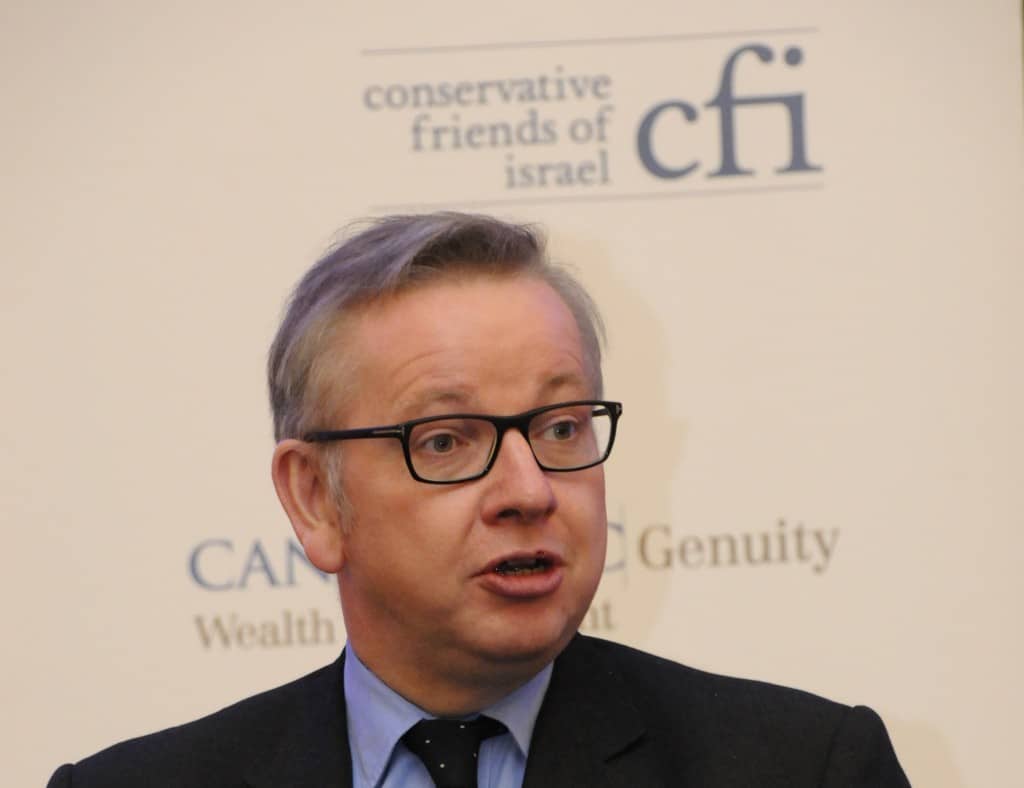 Turning to the subject of boycotts, Education Secretary Nicky Morgan raised the Labour Party National Executive Committee's recent decision to boycott the British security company G4S over its links to Israel, pointing out "on that very same day, the Shadow Foreign Secretary Hilary Benn MP pledged Labour would combat the delegitimisation of Israel".
Business Secretary Sajid Javid reaffirmed his staunch opposition to Labour's move, stating: "I think it's wrong on every level. My view is that the whole campaign is immoral, it singles out Israel as the sole object of delegitimisation… In fact we will do everything we can to have more and more trade with Israel".
He outlined the UK Government's continued moves to support flourishing ties between Britain and Israel: "The good news is our bilateral trade is worth £5 billion a year. In the past decade, it's up by some 60% and of course we want to see that continue. UKTI (UK Trade & Investment) play a huge role in that, as do other departments. The business relationship between Britain and Israel has never been so strong. We have over 16 Israeli companies on the London stock exchange… There is a lot for us to learn from that country and we want to see more business".
Mr Javid explained: "Just last week we had a session here in the UK, where the UK Israel Tech Hub brought over Arab Israeli tech hub entrepreneurs and encourage them to look for partners in the UK, which shows that the UK is ready to do business with everyone in Israel from every community".
Praising Mayor of London Boris Johnson's comments against boycotts, during his recent visit to Israel, Justice Secretary Michael Gove said: "I think Boris was absolutely right, and I think it's a great thing that Rt.Hon. Greg Clark MP, Secretary of State for Communities and Local Government, is putting forward legislation to ensure that local authorities cannot use their investment policy to essentially support the BDS campaign… Thanks to the bravery of Greg, and indeed the courage of Boris in speaking out, we now have a commitment to legislate on this in order to make it clear that you cannot use public money to subsidise prejudices".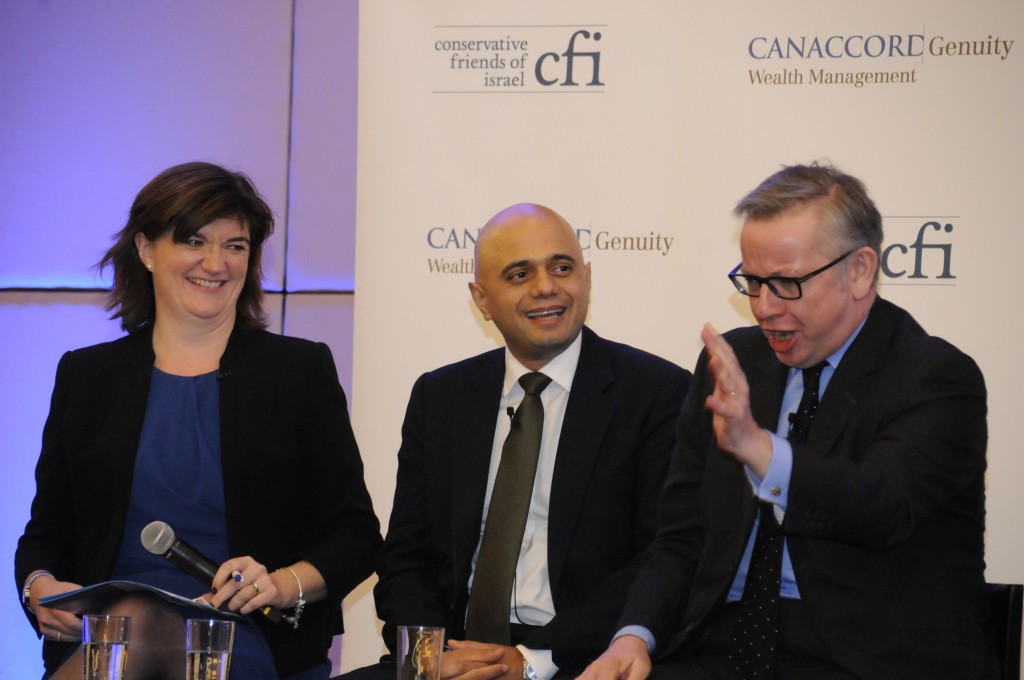 Speaking about the influence of Palestinian incitement in fomenting the recent spate of violence in Israel and the West Bank, Education Secretary Nicky Morgan said: "Many of those behind the recent stabbing attacks have been young Palestinians of no more than 18 years of age. Examples of incitement in Palestinian school textbooks are well-documented. For example, just last month, a video was widely shared on Palestinian social media depicting Palestinian children acting out a mass-stabbing terror attack on Jews".
Mr Gove underlined that incitement was "a huge issue". He emphasised: "One of the particular problems that we have is that for many children growing up in the Palestinian Territories, the education that they get is an education in prejudice rather than an education which will enable them to take their place in the companies which are their best route to economic independence and to human flourishing".
Mr Gove added: "We need to say we understand their aspirations to statehood…because we support the two-state solution. But we cannot have the two-state solution when it's the case that hate is preached and terror is armed within the territories for which they're responsible. I think that combination of recognising the legitimacy of aspirations but being absolutely firm – not just about the terror networks – but also about the doctrines of hate that are being preached is the right thing to do… We must never lose sight of the prize that we would all like to see, which is a peaceful, democratic Palestine living alongside a peaceful democratic Israel, but if we're going to achieve that goal, then what we must not dilute is our commitment to peace and to democracy, and that means that we do sometimes have to say very tough things to those that run the Palestinian Authority, including that some of the money that European taxpayers give them in order to support education is being misused".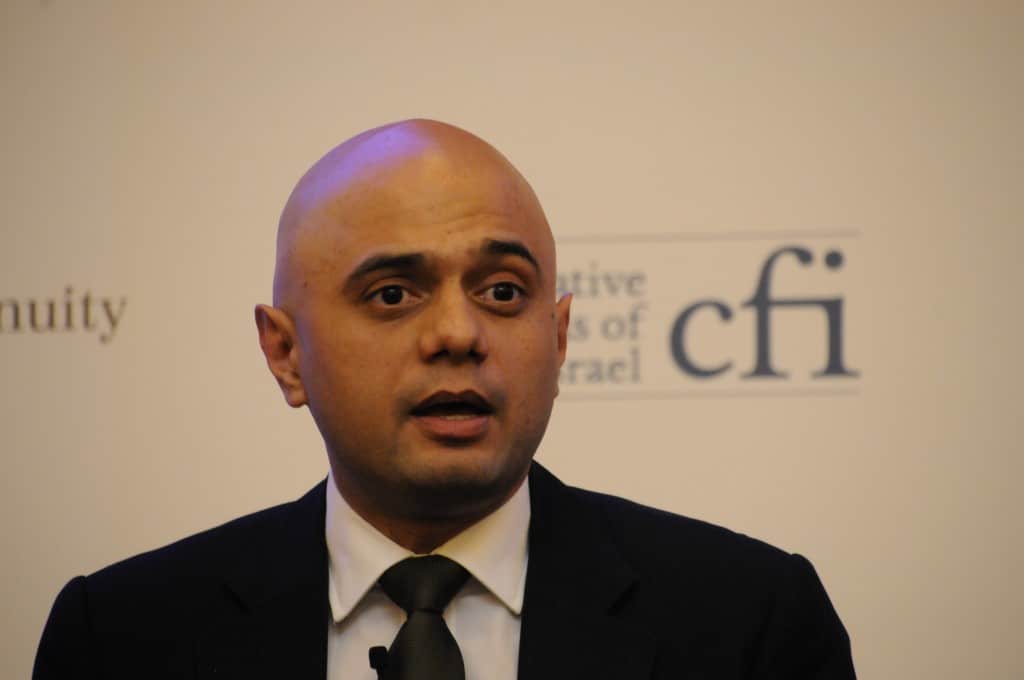 In her final question, the Education Secretary asked Mr Javid, in light of the "appalling violence to the streets of major European cities prompting international condemnation and outpourings of empathy. Why do you think the international reaction is so different when terror strikes Jerusalem and Tel Aviv?"
Business Secretary Javid said: "I think it goes back to how people tend to have double standards unfortunately when it comes to Israel. We see all too often that Israel's rightfully taking action to defend itself, like in Operation Protective Edge recently. We heard earlier about the measures Israel rightfully takes at airports that have maximum security… I think we are learning from what we've seen in Paris and elsewhere that what Israel has done is actually helpful to the rest of the world in how we deal with terrorism".
He concluded: "People should stop singling Israel out and realise that Israel has had to work hard to maintain what is still the only liberal democracy, open, free nation in the Middle East".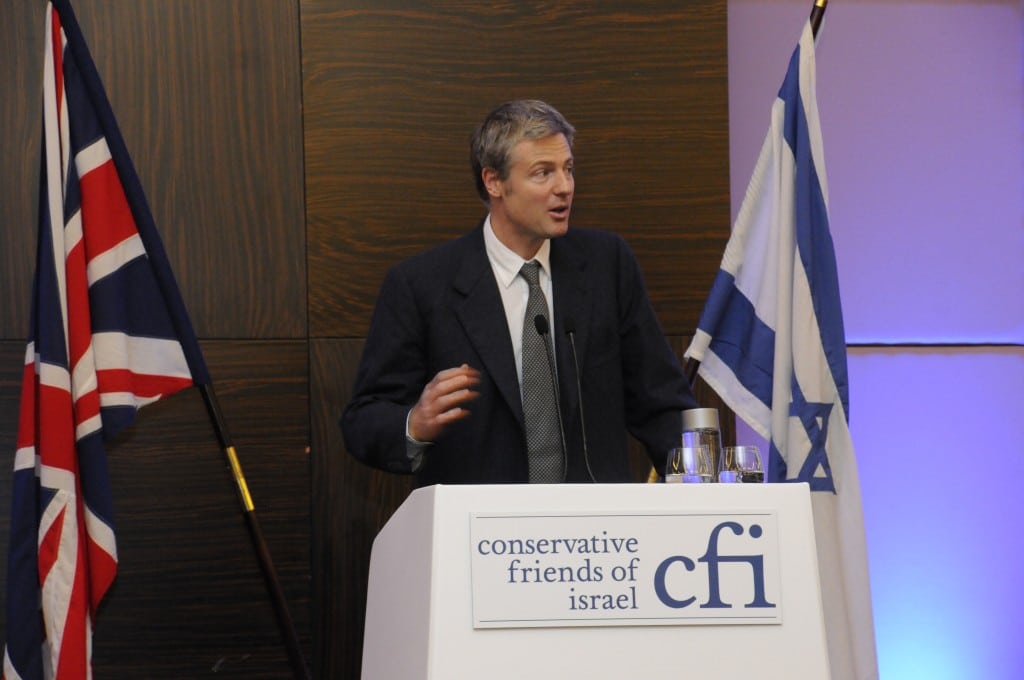 Conservative Candidate for Mayor of London, Zac Goldsmith MP also gave a speech, in which he pledged to take a "robust approach" against the "rising wave of anti-Semitism which is sweeping across Europe", if elected as the new Mayor.
The Mayoral Candidate said: "There is no denying or ignoring it…particularly on social media, criticism of Israel has become a cover for an old hatred. We can direct our police – both in London and elsewhere – to have a zero tolerance approach towards incitement on social media".
Mr Goldsmith pledged support of Israel: "We can stand up at every opportunity as each and every one of us in this room does for Israel: the only real democracy in the Middle East. Our friend, one of the most dynamic and extraordinary countries in the world".
On Israel's democracy, Mr Goldsmith said: "When Sajid spoke at a previous CFI event, I think he nailed it, he said: 'If I had to leave Britain to live in the Middle East, I would choose Israel to settle…because only there, would my children feel the warm embrace of freedom'. And that's the point of Israel, so often overlooked. Deliberately overlooked in my view by Israel's opponents".
Speaking on Labour's stance towards Israel, he said: "We have a leader of the Opposition who cannot even bring himself even to mention the word 'Israel', now I don't think you can and I don't think anyone in this room would want us to legislate against poisonous, idiotic opinion – that is not the way a democracy functions.
Mr Goldsmith said of his first ever visit to Israel with his wife: "I went to Israel for the first time, and I was overwhelmed by my experience. I was bowled over by the energy and by the dynamism. It was as if there was this bright and brilliant light in an otherwise dark and very bleak part of the world".
He continued: "Now, I have always felt that the story of Israel is overwhelmingly a romantic one. But having been there, and seen Israel with my own eyes, I fell in love with the place, not just the idea".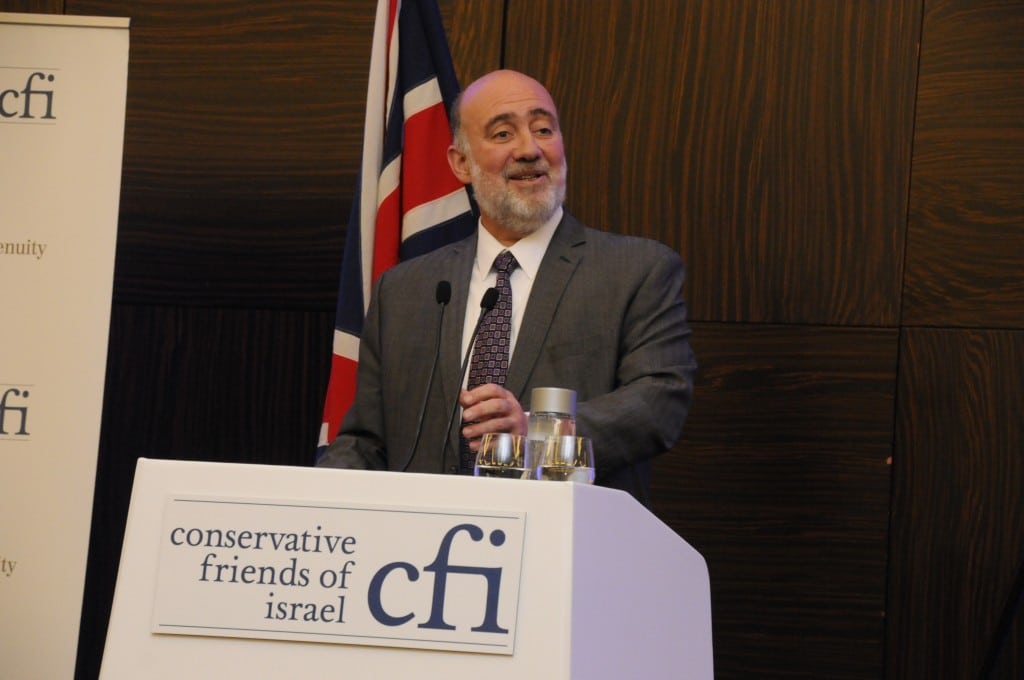 Israel's former Ambassador to the UN and UK, H.E. Ron Prosor emphasised the importance of education in the Palestinian Territories: "What we see is institutionalised radicalisation, also called incitement, which is easy, which we have a tendency to brush off and say no, we have bigger fish to fry… Borders… Jerusalem… Right of Return. No. Ladies and Gentlemen, this is the most important thing".
Speaking on the current opportunity for an advancement of the peace process, Ambassador Prosor said: "From my point of view, this is exactly the time to reach out and try and do something together and I can tell you without getting into details that a lot has been done under the radar screen because exactly like business and in politics, when the risks are high, when the stakes are high, there are also huge opportunities. The Arab world is exactly in that stage and we need to use the window of opportunity in order to move forward".
He thanked the Conservative Party and CFI for its support of Israel: "I really cherish this amazing bond, between the Conservative Friends of Israel and Israel, and the people of the United Kingdom and the people of Israel. It's based on mutual values that we all cherish, and I really want to say thank you, to each and every one of you".