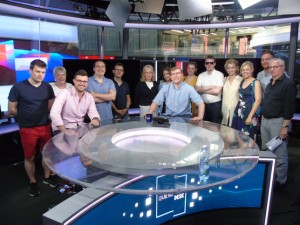 CFI coordinated a delegation to Israel last week with 10 Conservative Prospective Parliamentary Candidates (PPCs), many who were visiting for the first time.
The candidates who attended were: Siobhan Baillie, PPC for Stroud, Miriam Cates, PPC for Penistone & Stocksbridge, Mario Creatura, PPC for Croydon Central, Dehenna Davison Fareham, PPC for Bishop Auckland, Laura Evans, PPC for Wirral West, Peter Gibson, PPC for Darlington, Tom Hunt, PPC for Ipswich, Robert Largan, PPC for High Peak, Jack Rankin, PPC for Warwick and Leamington, and Matthew Vickers, PPC for Stockton South.
The itinerary featured a series of high-level meetings with Israeli politicians, journalists, entrepreneurs and academics, as well as strategic briefings and visits to organisations that promote peaceful coexistence. The delegation also travelled to the West Bank, visiting the first Palestinian-planned city in Rawabi and meeting PLO Chief Negotiator Saeb Erekat in Ramallah.
The delegation began in the south of Israel, with candidates receiving security briefings from former IDF Spokesperson Col. (Ret.) Miri Eisin, in the Gaza border town of Sderot. The delegates saw the remains of hundreds of Hamas rockets, in addition to visiting the Netiv Ha'Asara moshav and Kfar Aza kibbutz – two border communities where residents have been deeply affected by the rocket attacks and border violence.
As part of the diverse itinerary, the group visited Israeli drinks manufacturer SodaStream's factory in the Negev, where they met the diverse workforce and learned of the counterproductive measures of the Boycott, Divestment and Sanctions (BDS) campaign.
The PPCs met with Yair Zivan, Foreign Affairs Advisor to the leader of centrist party Yesh Atid, Yair Lapid, at the party's headquarters in Tel Aviv, where they were well-briefed about Israel's colourful political system and upcoming election in September.
During their visit, the delegation also met with Israeli security expert and journalist Jonathan Spyer, Israeli political expert, Professor Reuven Hazan, Editor of the Times of Israel, David Horovitz, and UK Deputy Head of Mission, Tony Kay OBE.
In Tel Aviv, the group visited i24NEWS, an Israeli international news channel broadcasting in French, English and Arabic, where they were briefed about the channel's progress since its founding in 2013.
The delegates met the founder of Cyabra, an Israeli high-tech start-up based in Tel-Aviv that protects brands and governmental institutions and politicians from online disinformation threats (i.e. fake news), and had lunch with Start-Up Nation Central, an NGO that facilitates partnerships between start-ups and businesses, governments, and academic institutions. The opportunities for further trade cooperation between Israel and the UK were discussed.
The group then visited Save a Child's Heart in Holon, where they met children from developing countries around the world receiving life-saving heart surgery. Around half of over 5,000 children who have received the life-saving treatment are Palestinians from Gaza and the West Bank.
The delegation's visit to the West Bank the following day began with a meeting in Ramallah with Palestinian Liberation Organisation (PLO) Chief Negotiator, Saeb Erekat, for a wide-ranging discussion on local and regional issues affecting the Palestinian population.
The PPCs toured the first Palestinian-planned city of Rawabi, which seeks to be a prosperous centre for business and culture in the region, expecting to house over 40,000 Palestinians. The group met with Rawabi's visionary, Palestinian-American businessman Bashar al-Masri.
The group then visited Taybeh, a Palestinian brewery in the West Bank village of Taybeh exporting many varieties of beer around the world.
The group received a comprehensive tour of Israel's security barrier by Col. Ret. Dr Dany Tirza, where it was explained that 95% of the barrier consisted of chain-link fence and had been constructed as a response to Palestinian suicide attacks during the Second Intifada.
On the same day, they visited Magen David Adom's new ambulance dispatch centre in Jerusalem where the group saw its advanced technologies shortening response times to medical emergencies.
The delegation later paid a moving visit to Yad Vashem Holocaust Memorial in Jerusalem and laid a wreath in memory of the victims of the Holocaust.
The delegates were given a tour of Jerusalem's Old City, and had dinner with Jerusalem's Deputy Mayor Fleur Hassan-Nahoum, for a lively discussion about Israeli politics and challenges facing the city.
Siobhan Baillie PPC said she was "honoured to lay our wreath at Yad Vashem after a moving & upsetting tour of the Holocaust memorial", adding: "Anybody trying to deny, dismiss, ignore or justify the latest appalling antisemitism rows in Labour should come here".
Tom Hunt PPC said it was "very moving" to visit Yad Vashem, underlining: "As a country we need to be intolerant of antisemitism in all its forms. This must involve the leadership of Labour rediscovering its conscience and confronting those who peddle this hatred".
Mario Creatura PPC thanked CFI for a "truly eye-opening trip to Israel". He said: "From tech entrepreneurs and conflict experts to historical analysts and political gurus – this is a complex, dynamic and industrious country that has so much to offer the world".