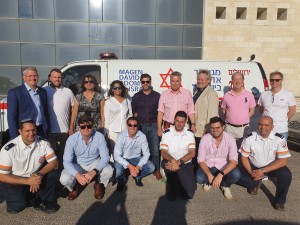 CFI coordinated a delegation to Israel last week with 5 Conservative MPs, 3 Conservative Lords and 2 Prospective Parliamentary Candidates (PPCs), many of whom were visiting for the first time.
The trip was led by CFI's Parliamentary Chairman in the House of Commons, Rt. Hon. Stephen Crabb MP, with delegates including Tim Loughton MP, Baroness McGregor-Smith CBE, David Morris MP, Lord Northbrook, Lord Polak CBE, Andrew Rosindell MP and Giles Watling MP. Cllr Scott Benton PPC and Jonathan Gullis PPC also joined the group, as well as Resham Kotecha, Head of Engagement for Women2Win, a network empowering Conservative women to enter Parliament.
The itinerary featured a series of high-level meetings with Israeli politicians, journalists, entrepreneurs and academics, as well as strategic briefings and visits to organisations that promote peaceful coexistence. The delegation also travelled to the West Bank, meeting PLO Chief Negotiator Saeb Erekat in Ramallah and visiting the first Palestinian-planned city in Rawabi.
In an interview with the Jerusalem Post, Mr Crabb underlined his long-held belief that Israel "stands out as a beacon of liberty, freedom and prosperity", and speaking to i24NEWS he highlighted concerns over reports that UK aid has freed up funds for the Palestinian Authority to make payments rewarding terrorists for violent acts against Israelis.
Delegates recorded videos sharing their thoughts on the speakers and sites visited throughout the trip, which can be viewed on CFI's Twitter account. The group met illusionist Uri Geller, who gifted them a spoon he had bent and signed for Prime Minister Boris Johnson.
The delegation began in the north of Israel, where MPs and Lords were briefed on the security situation on Israel's northern border with Lebanon where Hezbollah is reported to have embedded an estimated 150,000 rockets into Shiite villages close to the border. The delegation then travelled to the Golan Heights and Israel's border with Syria, overlooking the turmoil of the civil war, where they received a strategic briefing from the Israel Defense Forces (IDF).
At the Golan Heights, Conservative MP Giles Watling, who was elected in 2017, said: "What it really brings home to me, as somebody who's only seen this on news reports before, is how important this is as a place for the security of Israel".
The following day, the CFI delegation was hosted by the new British Ambassador to Israel, H.E. Neil Wigan OBE, at his residence in Tel Aviv for an informative discussion on the latest regional issues.
In Jaffa, the group visited i24NEWS, an Israeli international news channel broadcasting in French, English and Arabic, where they were briefed on the channel's progress since its founding in 2013.
They received a briefing from Start-Up Nation Central, an Israeli non-profit organisation, on Israel's high-tech success in dozens of industries including cyber security, agritech and digital healthcare. The NGO facilitates partnerships between start-ups and businesses, governments, and academic institutions.
The delegates also met the founder of Cyabra, an Israeli high-tech start-up based in Tel-Aviv that protects brands and governmental institutions and politicians from online disinformation threats (i.e. fake news).
As part of the diverse itinerary, the group visited Israeli NGO Save a Child's Heart in Holon, where they met children from developing countries around the world receiving life-saving heart surgery, and Palestinian children from the West Bank and Gaza visiting the hospital for a weekly clinic. Around half of over 5,000 children who have received the life-saving treatment are Palestinians from Gaza and the West Bank.
Tim Loughton, Conservative MP for East Worthing and Shoreham, described the charity as "Israel at its best", and Resham Kotecha said it had been an "honour" to see the "incredible" work carried out by the charity.
The delegation's visit to the West Bank the following day began with a meeting in Ramallah with Palestinian Liberation Organisation (PLO) Chief Negotiator, Saeb Erekat, for a wide-ranging discussion on local and regional issues affecting the Palestinian population.
In Ramallah, Palestinian polling expert Dr Khalil Shikaki briefed the delegates on the latest public opinion trends among Palestinians.
The group toured the first Palestinian-planned city of Rawabi, which seeks to be a prosperous centre for business and culture in the region, expecting to house over 40,000 Palestinians. The group met with Rawabi's visionary, Palestinian-American businessman Bashar al-Masri, over lunch in the city. David Morris MP, who had visited the city on a previous trip when it was "literally a quarrey", expressed his joy that a "revolutionary society" has now been created.
After travelling to Jerusalem, the group received a comprehensive tour of Israel's security barrier by Col. (Ret.) Dr Dany Tirza, where it was explained that 95% of the barrier consisted of chain-link fence and had been constructed as a response to Palestinian suicide attacks during the Second Intifada.
Following the tour, Cllr Scott Benton PPC said that "it's been absolutely fascinating to hear about the different technological solutions which the Israelis are using because of course, it's absolutely imperative that they have the right and ability to protect themselves from the indiscriminate terrorist attacks which so often blight the life of people here in Israel".
The group visited Magen David Adom's new ambulance dispatch centre in Jerusalem where they experienced the advanced technologies used to shorten response times to medical emergencies. Tim Loughton MP described MDA's approach as "a really high-tech… really efficient way to run the emergency services", noting that "the NHS could probably learn a thing or two out of this".
The delegation later paid a moving visit to the Yad Vashem Holocaust Memorial in Jerusalem. Baroness McGregor-Smith CBE, who is a member of the Prime Minister's Holocaust Commission, said she was "deeply honoured" to make her first visit to Yad Vashem. The Conservative peer laid a wreath in the Hall of Remembrance on behalf of the group, commemorating the victims of the Holocaust.
Jonathan Gullis PPC said that being in Israel "really brings to light the persecution the Jews have suffered over many hundreds of years and not just in the Holocaust". He reflected on his own German step-grandmother's experience as a child in Nazi Germany, conveying "her sorrow, her sympathy and her thoughts to the Jewish community here in Israel".
The delegates were given a tour of Jerusalem's Old City and met with Jerusalem's Deputy Mayor Fleur Hassan-Nahoum for a lively discussion about Israeli politics and challenges facing the city.
The group also benefited from discussions with Director General of the Ministry of Foreign Affairs, Yuval Rotem, as well as Israeli political expert, Professor Reuven Hazan and Editor of the Times of Israel, David Horovitz.
Reflecting on his first visit to Israel, Lord Northbrook said he was "very excited about the prospects for the country".
Andrew Rosindell MP added: "We've learnt so much about the importance of the security that exists here and the reason why people want to live in Israel – and it's not just Jewish people, it's Christians and Muslims as well – is that they have a country that provides security, prosperity and democracy, and surely that's something that we in Britain and other countries around the world should be supporting".